There Was a Good Reason Barack Went Shopping at Gap, and it Wasn't For Michelle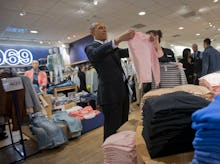 President Obama made a surprise stop at a New York Gap store to pick up some clothing. But it probably wasn't, as he claimed, an impromptu opportunity to pick up some moderately-priced gifts for the First Family.
In a statement from the White House, the administration said that, "In his State of the Union address, the President called for businesses to raise workers' wages. And today the President will visit a Gap store to show his support for Gap Inc.'s decision to increase wages for their U.S. based employees."
Gap recently took a big stand in the minimum wage debate, raising the wage for all of its retail employees to at least $10 an hour by 2015. The move, which the company described as, "the right thing to do," was widely interpreted as an act of support for President Obama's proposal to raise the federal minimum wage (currently $7.25) to $10.10. Doing so would see an estimated 17 million minimum-wage workers get a significant boost in their income unless their positions were eliminated, and benefit a projected 11 million more who would see a raise after pay scales were adjusted. In many states, you'd need to work more than 100 hours a week at the minimum wage to afford a two-bedroom apartment at Fair Market Rent.
About 63% of Americans believe such an increase is necessary, according to the Wall Street Journal. About 43% even support a much more generous increase to $12.50. So while Gap might feel that the pay increase is fair, it's also playing politics, portraying itself as a progressive employer. That's good business, and the president's appearance at Gap is evidence that the brand's strategy is paying off.
While the president most recently showed some hipster cred by appearing on comedian Zach Galifianakis' web show Two Ferns, apparently there are limits to how far he's willing to go to appeal to millennials. He opted for a more reserved round-neck t-shirt, saying "I'm worried the V-neck is going to slip."