The Creative Way Two Entrepreneurs Are Using Graffiti to Help Women in Detroit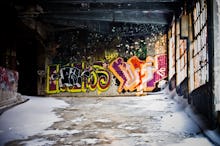 Most entrepreneurs will tell you that when they started their business they realized something was missing in the current system, came up with an idea to fix it and then decided how they were going to make that idea profitable.
Amy Peterson and Diana Russell took a different course of action.
Peterson and Russell, co-founders of jewelry company Rebel Nell, knew their cause — help impoverished women in Detroit — before they knew what their business was going to be.
The co-founders met through their love of jewelry-making and a need to help rebuild Detroit. Russell, who works in fashion and photography, is a Detroit-native while Peterson is an attorney who learned how to make jewelry while in law school. She also happens to be the creative brain behind one of the "must have" items during the 2005 Academy Awards Ceremony: a pin worn by cast and crew in the film Hotel Rwanda. Peterson eventually moved to Detroit in 2007 for her law career.
"Detroit was so good to me at giving a shot at my dream that I finally realized that it was my turn to return the favor," she told Detroit Urban Innovation Exchange. "I believe really strongly in empowering women—both my business partner and I do—and so we love the city and feel very passionately about empowering women so we wanted to combine the two."
So how were they going to do it? Russell and Peterson decided to make jewelry out of the beautiful graffiti that had fallen off old, crumbling buildings throughout the city.
For employees, they turned their attention to the Coalition on Temporary Shelter (COTS) where women are required to work a certain number of hours weekly in order to stay in the units.
Unfortunately, in Detroit, this might be easier said than done. The unemployement rate in Detroit as of December 2013 was 8%, compared to the overall national average of 6.5%. Though jobs are slowly returning to the area, the Motor City's history of vanished manufacturing jobs and long-lasting poverty has left many Detroit natives without the skills to get hired.  
The co-founders' goal was to transition their hires into permanent housing and independence.
Since partnering up with COTS, Peterson and Russell have hired three employees from the shelter — none of whom were required to have previous experience in jewelry-making. The women were trained by Peterson and Russell, who hope to "support them in whatever they want to do" and get them back on their feet.
Though the company has had some revenue stream, Russell and Peterson are still working full-time jobs in addition to Rebel Nell and don't pay themselves to make sure their employees are making a living wage. During training, the co-founders were able to pay their employees by raising $25,000 through crowdfunding site Indiegogo.
It is true, nowadays, there are plenty of "do-good" and benefit corporations out there that have branded themselves around charitable donations and social impact. But Rebel Nell is exceptionally unique in that it solely exists as a means of empowerment and sustenance for women. They can only employ three at the moment, but Russell said they have big goals for the future. By the end of 2014, the co-founders are planning on hiring more women and increase the already-existing staff's hours. Russell and Peterson also plan on expanding their online store into boutiques, which would create more revenue to hire women, said Russell. 
Right now the co-founders are unsure if they'll quit their day jobs, but they say that their overall goal is to always impact Detroit's community.
Each piece of Rebel Nell jewelry is one-of-a-kind and handmade and can be purchased online. This is part of our coverage of the real faces of entrepreneurs.