Almost Every Country in the World Is Involved in a Territorial Dispute — Including the U.S.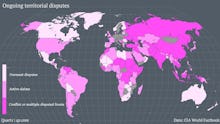 While the swift invasion, secession and annexation of Crimea may seem shocking, the newly Russified peninsula is far from the only region under territorial dispute today — in fact, the vast majority of the world is in one tiff or another. 
National and regional boundaries are an ever-shifting concept, and even seemingly stable lands may be contested by outstanding historical claims. Though not all of these disputes have as far-reaching geopolitical implications as the crisis in Crimea, they do open our eyes to the transience of man-made lines between states and countries.
Here is a map outlining all the existent territorial disputes in the world, courtesy of Quartz:
Image Credit: Quartz
Countries in central and western Africa, Asia and the Middle East had the most number of active territorial disputes. And while it might be a surprise to see the U.S. on the list, it indeed has several disputes both on land and at sea.
According to the CIA World Factbook, "1990 Maritime Boundary Agreement in the Bering Sea still awaits Russian Duma ratification; Canada and the United States dispute how to divide the Beaufort Sea and the status of the Northwest Passage but continue to work cooperatively to survey the Arctic continental shelf; The Bahamas and U.S. have not been able to agree on a maritime boundary; U.S. Naval Base at Guantanamo Bay is leased from Cuba and only mutual agreement or U.S. abandonment of the area can terminate the lease."
In addition, Haiti has made claims on Navassa Island, an uninhabited Caribbean island under American administration, the Marshall Islands has claims on the three-square-mile Wake Island and Tokelau lists the 17-person Swains Island in its constitution. The U.S. also refuses to recognize any other claims on Antarctica.
Other surprising names on the list include Australia (claims on Antarctica and maritime disputes with Indonesia), Brazil (boundary dispute with Uruguay), Denmark (dispute with Canada over Hans Island) and France (multiple disputes over Bassas da India, Europa Island, Glorioso Islands, Juan de Nova Island, Mayotte, Tromelin Island, French Guiana, Antarctica, Matthew and Hunter Islands).
While some of these of these disputes may be resolved soon with pending treaties and ratifications, others are based in centuries-long histories that probably aren't ending any time soon. We still live in a time when new countries are created and boundary lines are constantly being challenged and shifted. Quite simply, it's a fact of life in the ever-changing geopolitical landscape.