Why Hundreds of Residents of This Chinese City Lined Up for Fresh Air in a Bag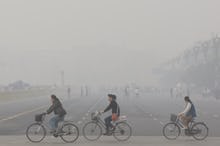 In the smog-filled city of Zhengzhou, one travel company offered bags of mountain air to residents in a stunt. Giving them a taste of fresh, breathable air, the company hoped to lure oxygen-deprived citizens of the Henan province's capital city to their mountainside resorts. Twenty large blue bags of air were shipped 120 miles from Laojun Mountain to the city. Hundreds of people lined up. Each resident had a few minutes to inhale the air before the next person had their turn. 
"I felt my baby move right when I breathed in," an eight-months pregnant woman said, according to China News Service. "I would love to walk in the mountain's forests after my child is born."
Call it off-color or call it kind, the packaged air offer speaks to an out-of-this-world problem plaguing the country. The World Health Organization has declared it a health crisis. One man has even sued the Chinese government for failing to provide its citizens breathable air. One in 8 deaths worldwide is attributed to air pollution. 
The air quality for Zhengzhou on Tuesday ranged anywhere from 157 to 177, according to data provided by the Chinese government. For some perspective, New York City's air quality index was at 46 Tuesday morning, and Los Angeles was at approximately 40. 
The travel company claims that in addition to promoting its resort, it was also trying to draw attention to China's environmental problem. Mission accomplished.