Russia Launched a Propaganda War Against Ukrainians — And They're Fighting Back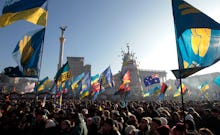 Russia has been waging a media war against Ukraine's post-revolutionary government, painting the new leadership as a group brimming with far-right extremism. 
It's an "information offensive," according to boxer-turned-politician Vitali Klitschko.
Prior to the annexation of Crimea, Kremlin-funded TV channels used a pretext of fascism and evoked a humanitarian crisis in order to legitimize Russian President Vladimir Putin's actions in the region. More recently, misleading headlines depict a violent and lawless country: "Ukraine radicals rob Russian train passengers" and "Ukraine blocks cargo for peacekeepers," to name a few.
The cost of misinformation is steep: It has the ability to provoke, polarize and widen the cultural gap between Ukrainians and ethnic Russians residing in Ukraine, thereby increasing the likelihood of a fierce civil war between the two groups.
In support of their new government, Ukrainians are now mobilizing by fighting prejudiced, dangerous Russian reporting online and providing public relations backing.
Part of this new grassroots movement operates in Kiev's Ukraine Hotel, where the volunteer-run Ukraine Crisis Media Center is based. Their goal is not to depict a different narrative but to support international journalists with access to unbiased resources. The center also hosts a platform where Ukrainian officials and activists can hold press conferences.
Alexandra Ustinova, a member of the center, explained to PolicyMic that Ukraine's interim government does not have the public relations resources to defend themselves from information skewed towards the Kremlin's agenda. "We are losing the information war and misinformation is transferred to international media," she said. 
Russians are especially susceptible to propaganda due to Moscow's censorship and recent media crackdown, and international journalists help shape Ukraine's public image.
Ustinova added that the reputation of common citizens is being attacked: "Russian news channels use the words 'Nazis' and 'radicals' to describe all Ukrainians, not just protesters or politicians."
Image Credit: Euromaidan PR
That's why journalists and graduates from Kiev's Mohyla School of Journalism started StopFake.org, a fact-checking website which examines news reports and corrects misleading or omitted information. "The goal is to fight back and refute Russian propaganda that has been intentionally painting an unfair picture of Ukraine for the past 20 years," founding member Margo Gondar told PolicyMic.
StopFake launched their initiative on March 4, shortly after Russian forces appeared in Crimea. "A handful of us began brainstorming in a Facebook group on how to best deal with the media's overreaching pro-Putin point of view. So we started researching and finding comments by officials that countered these media reports," Gondar said.
For instance, StopFake analyzed a recent story released by the Russian TV channel LifeNews, which reported that Dmitri Yarosh, a leader of the right-wing nationalist group Pravy Sektor (Right Sector), said he intended to blow up oil and gas pipelines passing through Ukraine in order to fight Russia's political aggression.
Since there is no land bridge that connects Crimea to Russia, the newly-annexed region relies on Ukraine for electricity, water and energy; all of its natural gas fields are connected to Ukraine's pipeline system. StopFake debunked the Russian news report by providing a literal translation of the leader's statement from his Facebook page and analyzing an interview cited by LifeNews with a link to the video. The inquiry also pointed out that Yarosh said in his statement that Pravy Sektor was still hopeful a "potential conflict with Russia could be solved by diplomatic means."
Both organizations gained widespread support through mainstream social media outlets and Vkontakte, the popular Russian networking site. The Ukraine Crisis Media Center has more than 2,000 followers on Twitter and a YouTube channel that streams daily press briefings in Russian, English and Ukrainian. Journalists from all around the world participate in StopFake's efforts by "reporting fakes" on their website or submitting translations and contrary details on Facebook which were conveniently omitted from original media reports.
Russian news sources responded to allegations of pro-Putin propaganda with denials and accusations of their own. According to Russia Today, Western media sources gloss over Ukraine's extreme right-wing and anti-Semitic leanings, while Ukrainian television providers block Russian channels from airing.
Mila Guschina, a reporter at Russia's regional Telekanal 100 channel, based in St. Petersburg, explained that there will always be propaganda in Russian state-owned media, but Ukraine is also guilty. "Ukraine's media is the same as ours," Guschina told PolicyMic. "Official channels proclaim a return to democracy, but bloggers and independent news sites ask about the price of that kind of liberty."
Investigative journalism is a challenge when both sides paint such contradictory narratives. "Readers expect more from StopFake than regular media, but our goal is to show facts despite allegations that we are pro-Ukrainian," said Gondar. "If we are not sure about what is fake news and don't have enough counter-information, we won't publish the article." 
Ukrainians believe that this new media defensive will continue to be necessary in the long haul. "Russia is trying to instill fear and insecurity in Ukrainian society, and it won't stop with Crimea," Gondar said. "Now Eastern Ukraine is at stake and a division of the whole country is a very scary possibility—one that we will fight to avoid."