This Summer's Blockbusters Are Missing Something Important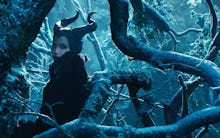 2013 was seen as something of a banner year for women in film, at least on the surface. The Hunger Games: Catching Fire was the highest grossing film of the year (domestically), Frozen was a critical and commercial hit and Sweden introduced the Bechdel test rating. If that weren't enough proof, a study released this week put to bed the question of whether or not movies that pass the Bechdel test mean a loss of money: spoiler alert, they don't. Unfortunately all of that is not enough for a major change at the box office, at lease not yet, and it's obvious women in movies haven't come as far as we'd like to believe — especially when it comes to this summer's pending blockbuster season.
The summer blockbuster is considered the popular height of the movie going season. Blockbusters are important, not because they are the highest quality cinema, but because they appeal to the widest audience. Women-centric big budget films that do well, like Catching Fire, would logically lead to an increase in female-led films overall. However, they don't seem to be accepted enough or certain enough for Hollywood to put them up against the likes of Captain America or 22 Jump Street.
While 2013 was a strong year for the reasons already mentioned, the major summer releases were disappointing in their female representation. The biggest movies of last summer included Iron Man 3, Fast and Furious 6, Man of Steel, World War Z, Star Trek Into Darkness and The Wolverine, amongst others. Despite some interesting female characters being included — we finally got a kick ass Lois Lane — these were films for men and targeted at male audiences. The Heat was the only major release to rely solely on female leads and of the films released during the all-important blockbuster season, only one was directed by a woman (Tyler Perry Presents Peeples).  
What's more problematic is 2013 isn't considered a low point. Looking back over the past 25 years, it's apparent Hollywood is content to market solely to men (and largely white men) during the summer season. Less than 55% of films released since 1989 have featured a woman as "star" (one who has equal billing with a male costar or who leads the film alone). And when it comes to films starring two women, the results are even worse. 2012 was the best, with 28%. It's abysmal.
So, with Captain America: The Winter Soldier kicking off the 2014 mega-blockbuster season, where do we stand? We are diving into the good, the bad and the ugly of female led movies for summer 2014. Let's have a look.
The Good 
There is some hope for women at the box office thanks to the upcoming releases of Maleficent and Tammy, starring Angelina Jolie and Melissa McCarthy, respectively. These are both major female led releases, and both will likely make a lot of money. On another positive note, the Fault in our Stars is the summer's requisite YA film, and with Shailene Woodley in the starring role, it looks like it's going to be an interesting one.
2014 only has one major summer release directed by a woman, and even she acts as co-director (Lana and Andy Wachowski's Jupiter Ascending). This film also features Mila Kunis as a top billed co-star, so it represents at least a little forward movement for female film.
There is there a possibility that the Jennifer Lawrence vehicle Serena, directed by Susanne Bier, will join the summer's list, but that's neither confirmed nor would Serena be considered a tentpole film. Still, Lawrence at the summer box office again would be a major win.
The rest of the summer looks to be predictably dominated by male-driven fare:
The Bad
X Men Days of Future Past has a lot of women included in its cast. However, we already know Anna Paquin's small part was cut, and the trailer is dominated by Magneto, Professor X and Wolverine. Here's hoping that Storm, the Scarlett Witch and Mystique are a bigger part of the actual story.
The Amazing Spider Man 2 is interesting in that its predecessor featured one of the more active women in comic book films. But Mary Jane was cut from this sequel to make room for Gwen Stacy so I guess there's only room for one woman per comic book film now. Which is something Guardians of the Galaxy seems to take to heart. Like other Marvel fare, the movie features the token badass female character that is increasingly occupied by Zoe Saldana. However, when there is only one woman in a cast of many (ahem Avengers) it's hard to categorize it any other way.
The Ugly
Michael Bay is releasing two films this summer — Transformers 4 and Teenage Mutant Ninja Turtles. His history leaves little hope that the women in these films will be little more than window dressing. The Rock's Hercules (directed by Brett Ratner) and The Expendables 3 present the same problem. They will both feature a token woman, but there is little worry they will have any major impact on the film. And where is that Expendabelles film we were promised?
22 Jump Street is sure to be both funny and successful, but with no women near the top billed cast it unfortunately holds a place amongst the action films it looks to skewer.
There many more films being released this summer, not all of them blockbusters and some of which feature a surprising number of female leads. However, none of those films will have the global reach that blockbusters have. And that reach is why it's important for blockbusters, and not just rom-coms and indies, to feature women. Blockbusters by definition reach the biggest audience, exposing new characters and stories to the largest portion of the public. When the biggest films fail to feature women, how are women supposed to increase their representation both in front of and behind the camera?