The 9 Major News Stories You May Have Missed This Weekend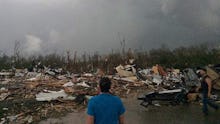 A look at this weekend's top and most trending stories. 
1. The LA Clippers owner is a mega racist. Here's how fans and celebrities responded.
In case you haven't heard, Donald Sterling, the long-time owner of the NBA's LA Clippers, is a super racist. He said some pretty heinous stuff and a lot of people haves spoken out about it. The NBA and its commissioner, Adam Silver, have said they're looking into the matter and are deciding how to proceed. In the meantime, fans and players are fighting back.
2. Meanwhile in Europe ... a soccer player handled a racist fan perfectly.
Around the Internet, the word "perfect" sure does get thrown around a lot, but it's hard to imagine a more fitting word to describe what Barcelona player Dani Alves did in response to a racist taunt in a game on Sunday.
In the second half of the match, a fan threw a banana at him, but instead of ignoring it or reporting it to an official, Alves simply picked it up, peeled it and ate it ... all while setting himself up for a corner kick. 
After the game Alves gave a great explanation to the Guardian's Sid Lowe:
"It's been happening for 11 years, we can't change it, so best to treat it as a joke. If we give it no importance, they fail."
3. Tornadoes ripped through three states, causing at least 18 deaths.
This photo provided by James Bryant shows Sunday's tornado carnage in Mayflower, Ark. The tornado grew to be a half-mile wide, turned buildings into rubble and stripped the leaves and smaller branches off trees.
A powerful storm system rumbled through the Central and Southern United States on Sunday, spawning several tornadoes. At least 18 people were killed by three separate tornadoes in Arkansas and Oklahoma.
Severe weather and storms, including more than100 tornadoes, could hit the Midwest this week due to a big, spinning upper-low front traveling across the U.S., according to the Weather Channel. Here are the states most at risk: 
4. The world is on alert as a deadly virus in the Middle East starts to spread.
In the past few days, Saudi officials have confirmed 102 deaths from an outbreak of the deadly MERS-CoV (Middle Eastern Respiratory Syndrome Coronavirus) as well as 339 confirmed cases, mainly in the western city of Jeddah. This represents a 73% jump in total infections in Saudi Arabia this month.
The virus is also spreading to other countries. Until now, most of the reported infections have come from Middle East countries including Saudi Arabia, Jordan and the United Arab Emirates. Over the weekend the list of countries increased to include Egypt, Malaysia, the Philippines and Indonesia, leaving officials struggling to figure out why infections have increased.
As PolicyMic reported on Saturday, officials are "struggling" to alleviate concerns that Saudi Arabia's health ministry can contain the outbreak, which Associate Professor Ian MacKay of the Australia Infectious Diseases Research center says has grown to more than 10 reported cases a day. 
No known treatment exists for MERS-CoV, a relative of the SARS virus that killed 800 people in 2003. Currently, it's suspected that MERs-CoV is transmitted to humans from camels, but if the virus were to start spreading directly from human to human, health experts are worried that it could become a global pandemic.
5. Sarah Palin is very into waterboarding.
You probably never thought Alaska Gov. Sarah Palin would publicly come out in favor of torture. But that's pretty much what she just did.
"C'mon! Enemies who would utterly annihilate America, they would obviously have information on plots. They carry out jihad. Oh, but you can't offend them. Can't make them feel uncomfortable, not even a smidgen," Palin said on Saturday during a speech at the National Rifle Association's "Stand And Fight" rally. "Well, if I were in charge, they would know that waterboarding is how we baptize terrorists."
Also, because this was an NRA rally, Palin reiterated her love of guns and fear of the Obama adminstration's supposed plan to take away everyone's guns.
"If you control oil, you control an economy. If you control money, you control commerce," she said. "But if you control arms, you control the people, and that is what they're trying to do."
Watch the full speech below. 
6. South Korea's PM resigned over the ferry disaster.
On Sunday, South Korean Prime Minister Chung Hong-won announced his formal resignation over the government's response to the recent ferry disaster that claimed the lives of at least 187 people, many of them students and teachers on a field trip. 
It was first announced that everyone had been rescued from the sinking of the MV Sewol, although that wasn't true. Chung has taken full responsibility. 
"During the search process, the government took inadequate measures and disappointed the public," Chung said. "I should take responsibility for everything as the prime minister, but the government can assume no more. So I will resign as prime minister."
"There are too many irregularities and malpractices in parts of society that have been with us too long and I hope those are corrected so that accidents like this will not happen again," he added.
Korea's government has both an elected president and an appointed and confirmed prime minister. Chung's stepping down will not directly affect the president, who will soon need to select a new candidate for the second highest position in the country. 
7. A woman died in a car crash while posting about "Happy" to Facebook.
A North Carolina woman was killed after crashing her car moments after posting on Facebook how much she liked Pharrell's massive hit song "Happy."
At 8:33 a.m., 32-year-old Courtney Ann Sanford posted "The happy song makes me HAPPY!" to her Facebook page. At 8:34 a.m. police received a call about a car crash. 
"In a matter of seconds, a life was over just so she could notify some friends that she was happy," High Point police Lt. Chris Weisner told local news station WGHP. Though North Carolina made texting-while-driving illegal in 2009, the law doesn't specifically mention social media outlets such as Facebook or Twitter. 
The accident serves as a grim reminder to pay attention on the road, High Point Police Lt. Charles Lanier told the High Point Enterprise, adding, "There's so much going on, you can't afford to be looking down at a phone or a computer or taking pictures of yourself. That takes a great deal of attention off of what you're doing. Nothing is worse than losing your life or the life of someone else to tell people how you're doing."
8. Putin and the White House are not on speaking terms.
The Daily Beast's Josh Rogin reports Russian President Vladimir Putin has halted all talks with President Barack Obama and the White House after the U.S. and EU indicated they were preparing to place new sanctions against Russia for its actions in Crimea and Ukraine. 
"Putin will not talk to Obama under pressure," said Igor Yurgens, chairman of the Institute for Contemporary Development, a prominent Moscow think tank, and a close associate of Russian Prime Minister Dmitry Medvedev. "It does not mean forever."
Since the invasion of Crimea began in late February, Putin and Obama have been having regular phone calls in what's been called a "half-hearted" attempt to manage the crisis and increasing destabilization. 
Last Thursday, Secretary of State John Kerry issued a final warning for Russia, saying, "The Geneva agreement is not open to interpretation. It is not vague, it is not subjective, it is not optional." He later added: "If Russia continues in this direction, it will not just be a grave mistake, it will be an expensive mistake." 
9. A Connecticut teen was murdered over her high school prom.
A 16-year-old high school girl in Connecticut died after being slashed in her neck, chest and face by another highschooler on Friday. The suspect, 16-year-old Chris Plaskon, attacked Maren Sanchez early Friday morning. Although his motives have not yet been confirmed, it's believed that Plaskon lashed out on Sanchez after she refused his invitation to their prom that night. 
Students at the school say Plaskon became enraged after Sanchez said she couldn't go to the prom with him and then tried to strangle Sanchez before pushing her down a flight of stairs and stabbing her in the throat.
"The unprovoked attack on Maren this morning has unfortunately, for our family, resulted in the permanent loss of Maren Victoria Sanchez: a bright light, full of hopes and dreams, with the future at her fingertips," the girl's adult cousin, Edward Kovac, told reporters Friday afternoon. "Maren should be celebrating at her prom this evening with her friends and classmates. Instead, we are mourning her death, and we are trying as a community to understand this senseless loss of life."