What TIME 100's Biggest Snub Says About the Way the Media Values Trans People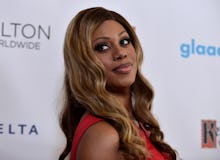 Twitter, it could be said, was abuzz last week as online communities mobilized for voting in TIME Magazine's "TIME 100" readers' poll. By far the most talked-about woman in the poll was Laverne Cox, the transgender activist and co-star of Orange is the New Black who made headlines after she leapfrogged teen crooner Justin Bieber into the top spot, holding it for several hours.
The excitement was palpable — surely, this surge in support would translate into a coveted spot for Cox. And think of the message including a transgender woman of color would send to TIME's mainstream, global audience.
But when TIME ultimately released its much-heralded list, an annual collection of some of the world's most important and influential individuals across business, politics, advocacy and the arts, Cox was nowhere to be found. The bubble of optimism burst and Twitter lit up again, this time with the trending hashtag, #whereisLaverneCox.
Many wondered why Cox was excluded despite the fact that her percentage of yes to no votes was much more positive than several people who did make the list. Some on Twitter seemed resigned to the snub, others appeared barely able to control their outrage.
It's unrealistic to think that such a highly subjective compilation, picked without public comment by the magazine's editors, would be controversy-free. However Cox's omission highlights the extent to which the mainstream media is still unaware of the importance — and strength — of the global transgender movement.  
Cox rocketed to cultural stardom last year due to her breakout role as hairstylist Sophia Burset on the hit Netflix hit prison series Orange is the New Black, returning for its second season later this summer. One of very few trans actresses of color with any mainstream visibility, the Alabama-born Cox capitalized on the media attention, savvily directing the spotlight toward various human rights causes including the imprisonment of CeCe McDonald, a transgender woman who was sent to jail for fatally stabbing a man who attacked her.
Whether she wanted to or not, Cox's stardom became a turning point in a groundbreaking summer that included multiple notable transgender news stories, such as the misgendering of Chelsea Manning, Facebook's unrolling of more diverse gender options and Barney's impressive ad campaign featuring 17 trans models. 
As two straight men, Matthew McConaughey (himself a TIME 100 honoree) and Jared Leto, earned armfuls of awards (and a side helping of controversy) for their portrayal of an AIDS-stricken cowboy and transgender woman, respectively, Cox and fellow trans sister Janet Mock continued to prove that the trans community could, and should, tell their own stories. This despite the fact that over and over, the mainstream media showed its woeful lack of understanding of a global community that has begun to demand its rights in earnest, from Mobile, Ala., to New Delhi. 
Whether fighting for transgender rights outside American prisons or fielding ignorant questions about anatomy on mainstream talk shows, Cox has proven herself to be a poised ambassador of the movement, calmly shutting down casual transphobia while simultaneously amassing an impressive mainstream following.
Although still too often overlooked, transgender grassroots activism is indeed a powerful force in the United States, mobilizing quickly and efficiently to challenge the violence and discrimination that is still part of everyday life for many trans people. Cox is as much a leader of this movement as any, advocating tirelessly through a variety of efforts like a new MTV documentary she's producing on the stories of trans teens. Her social media popularity was also put on display in the run up to the TIME list unveiling, even attracting the attention of peers who would make the list themselves. Perhaps John Green, best-selling young adult author and TIME 100 honoree this year, said it best on Tumblr:
Laverne Cox is the most visible trans person of color in the world and she has helped millions of people to learn about trans people and the discrimination they face. I think Laverne Cox is one of the most important and influential people in the world and should've been included in the TIME 100.
But TIME clearly disagreed.
As the backlash swelled, some argued that Cox did not deserve to be on the list because she isn't globally influential. If the list was only comprised of the likes of world leaders such as Pope Francis or Vladimir Putin, this argument might make sense.
But while the list is full of world leaders and business scions, it also includes actors, singers, authors, fashion designers, politicians and athletes — many of whom are American and have arguably had less of an impact on U.S. cultural dynamics than Cox has this past year. The fact that the list does not include evidence of influence, choosing instead to offer at times fawning descriptors written by celebrity friends or admirers does little to bolster anyone's case. 
Writing about actress Amy Adams, the "cinematic chameleon," fellow actress Emily Blunt, for example, chose to describe the American Hustle star's "silly and funny and dirty" side. Meanwhile, Naomi Watts praised House of Cards actress and friend Robin Wright's "deep thought, beauty, raw truth." While both talented actresses, neither Adams nor Wright were exactly breaking new ground over the past 12 months.
Country singer (and all-around good person) Carrie Underwood made the list this year as did Miley Cyrus, the "pop provocateur," who Dolly Parton praised as a girl who can write, sing and "who is smart." Given these qualifications, readers would be forgiven for a bit of headscratching. Was it Cyrus' headline-grabbing VMA performance that convinced the editors or her global influence, or perhaps it was her pioneering usage of the foam finger?
The "alarmingly talented English star" Benedict Cumberbatch was a TIME selection, as was television host Seth Meyers, the "new kid in late night." Even Fox host Megyn Kelly, "an authoritative force in cable news," got the nod, joining fellow broadcaster Charlie Rose as the two journalists who, according to the magazine, currently wield the most influence in American media.
Ultimately, all the people on the TIME 100 are undeniably accomplished, and it's in no one's best interests to tear down their achievements in the hopes that it will elevate another's. (Not surprisingly, Cox herself was exceedingly gracious about not making the list.)
But it's still important to note TIME's bungling of a potential watershed opportunity. It also raises more than a few questions about the relevancy of the list in today's intersectional world. Does influence, in this context, now mean raw fame? Does it mean fashion sense, or acting talent or Twitter followers or earning power? Are outspoken athletes as influential as world religious leaders? Are presidents on par with style icons?
Due to TIME's stubborn refusal to comment on the brouhaha, we'll probably never know. And it's too bad, because in a year when transgender visibility rose to unprecedented heights, it would have been nice to see a that achievement represented on the cover of TIME.