A Simple Explanation on Why Apple Bought Dr. Dre's Beats for $3.2 Billion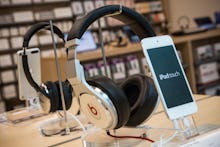 On Thursday night, Apple announced its intentions to buy Dr. Dre's Beats Electronics for $3.2 billion, which would be Apple's biggest acquisition ever. The deal will make Dr. Dre a lot of money, though he won't become, as many have theorized, hip-hop's first billionaire. 
Of course, considering the deal involved Apple (one of the biggest names in personal computing), Beats (one of the biggest names in headphones) and $3.2 billion (well, that's just a lot of money), a lot of people took notice and started to wonder why Apple would spend so much money on headphones. Well, it turns out there's probably a fairly simple explanation, and it doesn't make Apple look too good. 
Apple is completely out of ideas and unable to innovate. Well, that seems to be the most likely explanation at least, considering every other explanation doesn't really make sense. A lot of theories have already been circulating, including the ideas that Apple wants to add a high-profit margin device to its repertoire, that Apple just wants to be cool again, that Apple wanted to acqui-hire Jimmy Iovine, Beats' co-founder with many connections in the industry.
These all have some weight behind them, but for a $3.2 billion price tag, none of them are really reconcilable considering what Apple would be getting. Apple is pretty cool and just as recognizable of a brand as Beats, and Apple could probably find other ways to work with Iovine, or just find someone else like him, for a lot less money. 
"We are struggling to see the rationale behind this move," Gene Munster, an analyst with the firm Piper Jaffray, wrote in a note to investors. "Beats would of course bring a world-class brand in music to Apple, but Apple already has a world-class brand and has never acquired a brand for a brand's sake."
So what about buying the headphones themselves and the Beats streaming service? Well, there may be some weight to that. In January, iTunes saw its digital music sales plummet for the first time since its store opened. Plus, Beats are pretty cool and have a proven record of success and sales. However, as web and tech writer Om Malik pointed out in this series of tweets, the rationale here is still lacking.
And it's that last tweet that sums up what's probably going on. Though Apple wants to compete with Spotify — especially after the failed project that was iTunes Radio — the sub-par Beats streaming service likely won't cut it. But what else is there to do? Though the iPhone has historically been a home run for Apple, their market share has been slipping recently as competitors like Samsung, LG and Lenovo continue to grow. Apple is hoping that their soon-to-be-revealed iPhone 6 will take them back to the top, but based on the rumored designs, the innovation appears to be limited to copying their competition (read: larger screens). 
Forgetting for a moment the dark secret behind the genesis of Beats, Apple seems to be buying a company just because everyone else is. Facebook bought Oculus VR for $2 billion, Google bought Nest for $3.2 billion and Facebook bought WhatsApp for $19 billion. But all of those purchases, if strange, had at least some arguable rationale behind them. But the same can't really be said for this deal. Apple is falling behind in cloud-based services and several of their Internet-focused projects have floundered. They hope they can catch up and continue to produce the types of game-changing products Apple is known for, but unless Apple has some grand plan for Beats that no one knows about, this probably isn't the silver bullet Apple needs.