A School Banned a Gay Student's Yearbook Photo, and Now Her Classmates Are Speaking Out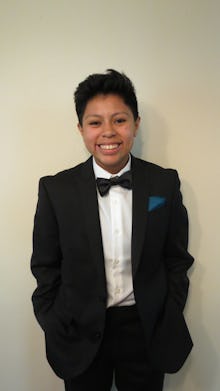 Taking a senior yearbook picture is stressful on its own — but throw gender policing into the mix and it gets downright ridiculous. Sadly, that's exactly happened at San Francisco's Sacred Heart Cathedral Preparatory School to senior Jessica Urbina after she opted to wear a stylish tuxedo in her portrait. In response to her outfit, the administration allegedly banned the picture, claiming that her choice of clothing violated the school's yearbook dress code. 
Image Credit: Michael Urbina
While the school's decision seems suspect, what happened next was nothing short of inspiring. In a show of solidarity, Sacred Heart students organized a protest and supported their classmate by wearing neckties and bow-ties. They tweeted about the incident using the hashtag #JessicasTux.
According to NBC Bay Area, the school has not been entirely clear about its intentions. But judging from the statement currently posted on its website, Urbina's photo may very well be omitted from her last yearbook. "While not all [students] are in the portrait pages, each of our 286 seniors are represented with photographs throughout the yearbook," the school statement notes. So in other words, although the teenager might have some pictures in the yearbook, she'll be excluded from having her official picture listed with the rest of her classmates.
Katie Emanuel, Jessica's girlfriend, expressed her support publicly as well. "I support my girlfriend," she told journalists outside the school. "I support my school and want it to be the best it can for people like us."
Shocked by the school's reaction, Jessica brother, Michael, a feminist activist, used the the #JessicaTux hashtag to launch a social media campaign to raise awareness.
Image Credit: Michael Urbina
People from all walks of life tweeted words of support for the teenager on Facebook and Twitter. Many users from religious communities also tweeted their support for the Catholic school teen, expressing embarrassment and outrage about the discriminatory policy.
Although Sacred Heart Cathedral Preparatory School did not publicly reverse its decision after the digital campaign, despite garnering hundreds of tweets, the school said that it is using the incident as a teachable moment, according to its website. 
The school's Principal Gary Cannon told reporters that students of all sexual orientations are welcome at his school, but "at the same time we're going to be clear in terms of being a Catholic institution what the Catholic church teaches and how do we live out that faith in a meaningful way, and in a supportive way with all of our students."
This isn't the first time we've had a debate about gender-specific policies in schools. Recently, a boy was told to keep his "My Little Pony" backpack at home because it might lead to bullying, while a little girl was not welcome back at her school after officials said her tomboy-ish haircut defied "God-ordained identity." Then there was the case of a teenage girl was kicked out of her own prom after fathers complained her outfit would conjure "impure thoughts."
Although there has been no word about what future steps — if any — will be taken at Sacred Heart, the ACLU has been known to intervene in similar cases. In 2013, the organization sent an 11-page letter to Hesperia Unified School District Interim Superintendent David McLaughlin claiming that LGBT and gender non-conforming students were being harassed at Sultana High School due to policies enforcing gender-specific attire for both prom and yearbook photo events.
What kind of messages are we sending to students when we propose such a limited path to personal expression? Instead of reinforcing restrictive gender scripts, we should be enabling students to challenge those assumptions.
What do you think about the fact that Jessica Urbina's picture will be left out of her yearbook? Let me know on Twitter and Facebook.