Hillary Clinton Just Made a Bold Statement About Gun Control in America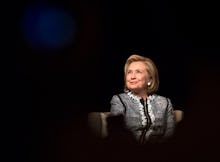 The quote: When a school teacher asked Hillary Clinton if she thought banning assault weapons or high capacity magazines would do any good, Clinton said: "Yes, I do."
At a town hall event hosted by CNN's Christiane Amanpour, Clinton displayed a rare candor while still downplaying her potential presidential bid in 2016; not only did she signal a new openness for marijuana legalization, she also addressed the topic of gun reform, and expressed perhaps her strongest statement on the topic yet.
At the Tuesday event, she explained:
"I don't think any parent, or any person should have to fear about their child going to school or going to college because someone for whatever reason, psychological, emotional, political, ideological, whatever, could possibly enter that school property with an automatic weapon and murder innocent children, students, teachers," Clinton said, adding that she was disappointed in Congress' inability to pass universal background checks.
"We cannot let a minority of people — and that's what it is, it is a minority of people — hold a viewpoint that terrorizes the majority of people," said Clinton. "You are about the fifth person in the past few weeks — parents, another teacher, interested citizens — who have said something similar to me."
This is a big risk for Clinton. Just last week, President Barack Obama also took Congress to task for being unable to pass gun reform, angrily adding that Washington should be "ashamed" for its inaction. But the difference is that Obama is a second-term president trying to get through his agenda items before the end of his term; Clinton, on the other hand, still has a potential presidential run before her.
While Clinton is still the heavy favorite for the Democratic nomination in 2016 and the frontrunner for the general election, the strength of the gun lobby cannot be understated. Though Clinton may be quick to dismiss gun activists as "a minority of people," even Obama has admitted the power of this minority. "Most members of Congress are terrified of the NRA," Obama said last week. "The only thing that is going to change is public opinion. If public opinion does not demand change in Congress, it will not change."
But something needs to change. Clinton and Obama are not being hyperbolic when it comes to the wide prevalence of gun violence across America, especially in schools. According to the gun control advocacy group Everytown for Gun Safety, there have been 74 school shootings since the Newtown tragedy — that's one school shooting every seven days.
Image Credit: Twitter/Mark Gongloff
More Americans have died from gun violence in the past 46 years than there have been combat deaths in the entirety of the U.S. military history. And among comparable high-income countries, the U.S. leads the pack when it comes to both gun ownership and the rate of gun-related homicide:
Image credit: Max Fisher/Washington Post
The political quagmire: The defeat of last year's bipartisan measure for mandated background checks on gun sales has been a colossal failure for the Obama administration. And while Obama announced executive actions to strengthen federal background checks for gun purchases, he admitted that they were not enough to truly reform gun laws. In order to do that, the public needs to pressure lawmakers to do something.
Even now, public opinion is a problem. According to an Associated Press-GfK poll in December, barely half of Americans thought that U.S. gun laws ought to be stricter, while 15% said they should be less strict. That's far from the overwhelming majority that is needed to overcome the gun lobby's influence, making it hard for Clinton — should she win the presidency — to enact true gun reform, even with a presidential mandate.