You've Never Seen Your Favorite Disney Princesses Quite Like This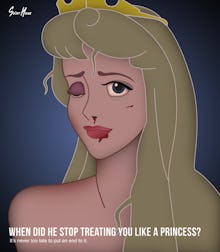 For a lot of children, the world of Disney is so appealing because of the beautiful and idyllic life of the princesses, the chivalrousness of the charming prince and the happily-ever-after promise of its tidy fairytale endings. Unfortunately, as girls grow up, the world of Disney often fades into a much more banal, even threatening, reality.  
In an effort to raise awareness of exactly how bad this real-world reality can become, controversial artist Saint Hoax has once again used Disney princesses in a series of graphic PSAs targeting victims of domestic abuse.
Her latest campaign "Happy Never After" asks, "When did he stop treating you like a princess?" Featuring fan favorites such as Ariel, Jasmine, Cinderella and Aurora, Saint Hoax re-imagines them with blackened and punched eyes, disheveled hair and blood dripping from bruised lips and noses.
Hoax, who uses a pseudonym, came up with this campaign following the success of her highly controversial posters dubbed the "Princest Diaries," which tried to raise awareness that sexual abuse often occurs at the hands of men known to the victim. 
While the pictures are indeed graphic and visually disturbing, having Disney princesses symbolize domestic abuse is part of the artist's attempt to make terribly traumatic experiences more relatable, and perhaps will even help some young victims eventually report such crimes. 
And the assumptions underlying Hoax's campaign aren't unfounded. 
A 2000 report by the U.S. Bureau of Justice Statistics notes that 34.2% of minors who were sexually abused were victimized by a family member. And this is often the case with these types of crimes as a vast majority of those crimes go unreported. However, according to a Centers for Disease Control study from 2006, approximately 1 in 4 women and 1 in 6 men reported being sexually abused before the age of 18.
Hoax believes that any little bit helps when it comes to raising awareness of this problem. Women and girls need to see that domestic violence could happen to anyone — princesses or not — and young victims need to understand that they are not alone. 
According to Safe Horizon, a prominent national facility for victims of domestic and sexual abuse, 1 in 4 women experience domestic violence in their life. Meanwhile, according to the U.S. Department of Housing and Urban Development, domestic violence is the third-leading cause of homelessness among families. Women experience more than 4 million physical assaults and rapes because of their partners, and men are victims of nearly 3 million physical assaults. 
"By portraying Disney princesses as victims of domestic violence, I'm proposing the idea that no girl/woman is safe from being emotionally/physically/sexually abused," Hoax told the Huffington Post. 
Image Credit (all): Saint Hoax
Using Disney characters to create social commentary has become something of a trend lately, spearheaded by artists like Saint Hoax and others who are re-appropriating the classic cartoons to spread powerful, if dark, messages.
Imgur user grumpypunkcat also came up with a Disney Unhappily Ever After series that addresses 21st century problems like animal abuse, oil spills, pollution, rape and racial discrimination. Others have attempted to use the re-imagined characters to reflect the diverse reality in which we live.