13 Summer Web Series that Are Totally Worth Watching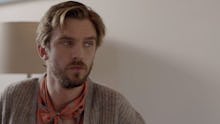 Summer may be the off season for a lot of network and cable series, but thankfully, the Internet never sleeps. So instead of pining for the return of Don Draper and Carrie Mathison, fire up your browser and get acquainted with some of the series making waves on the Web.
With the breakout success of shows like Broad City, Children's Hospital and Between Two Ferns, Web-based shows are finally coming into their own, with writers and comics recognizing the medium's inherent potential and using it to build something more daring and unorthodox than traditional TV fare.
In honor of the dawning era of the Web series, here are some of the best new (or new-ish) online series to keep you busy during the long, Game of Thrones-free summer months.
1. 'High Maintenance'
The weed-centric Web series from husband and wife duo Katja Blichfeld and Ben Sinclair was met with critical acclaim when it premiered in 2012, with the New Yorker's Emily Nussbaum writing that, "freed of the constraints of 30-minute or one-hour formulas, the episodes are luxurious and twisty and humane, radiating new ideas about storytelling."
The show focuses on a nameless pot dealer as he makes his rounds in New York City, with each episode opening a window into the life of one of his clients, from Hannibal Buress as a comedian in a troubled relationship to Downton Abbey's Dan Stevens as a cross-dressing screenwriter. New episodes are scheduled to roll out sometime before the end of this year, so there's no better time to catch up and see what all the hype is about.
2. 'The Program'
Maria Bamford's comedy often grapples with darker elements of the individual and collective psyche, and her brand-new Funny or Die series is no exception. Co-created by comedienne Melinda Hill, The Program centers on a 12-step program for people who are compulsive debtors. Two episodes have premiered so far, introducing us to an eclectic bunch of support group attendees from a former sex worker (Hill) to a guy suffering from paranoid delusions (The Office's Oscar Nuñez). If you've ever been in debt, whether it's from student loans or owing "a lot of money to Red Lobster," this may strike a cord.
3. 'Teacher's Lounge'
Thundershorts, a new site debuting original comedy Web series launched last week, and one of their first offerings is Teacher's Lounge, starring comics Ted Alexandro and Hollis James in a 10-episode series chronicling the goings-on of faculty at a New York City elementary school. The series boasts an impressive array of guest stars, including Daily Show alum Lewis Black as the principal, 30 Rock's Judah Friedlander as the computer science instructor, as well as stand-up comic Jim Gaffigan as the school's nutritionist and maker of racist-sounding wines. What, didn't your school have one of those? Anyway, all these guys are really funny, so we're optimistic.
4. 'American Viral'
Another promising new offering from Thundershorts is American Viral, which focuses on one dysfunctional family's attempt to recapture their former YouTube fame. Comedy nerds, take note: The series stars the brilliant Michael Showalter, who wrote this summer's Amy Poehler/Paul Rudd rom-com parody We Came Together, as well as his frequent collaborator David Wain (they worked together on Stella and Wet Hot American Summer) and comedienne Janeane Garofalo, who is all over the Web series game these days.
5. 'Comedians in Cars Getting Coffee'
Even if you've never heard of any other Web series, you've probably heard of Comedians in Cars Getting Coffee, Jerry Seinfeld's show about, well, exactly what the title suggests. The series has been running since 2012, but that doesn't mean you've missed the boat: Season four is in full swing right now, with recent episodes featuring Aziz Ansari and a surprisingly delightful Sarah Jessica Parker.
Check it out, and then check out Joel McHale's Comedians in the Car Getting Cocaine parody, because why not.
6. 'Park Bench'
AOL's quirky, New York-centric improvised talk show Park Bench is sort of evocative of Comedians in Cars Getting Coffee, only it's Steve Buscemi on a bench instead of Seinfeld in a car. The show also has a similar level of celebrity firepower: High-profile guests for the ongoing first season include Chris Rock, Rosie Perez, The Beastie Boys and New York City Mayor Bill DeBlasio. It's not the most groundbreaking format we've ever seen, but Buscemi is as charismatic as ever, and it's a nice little palate-cleanser for those desperately missing him on Boardwalk Empire.
7. 'K&A'
If you like Broad City, you may enjoy K&A, an offbeat female buddy comedy about two 20-something besties who are "dysfunctional, day drunk and doomed." The first season, which wrapped last week, centers on the relationship between the straight and lesbian duo of Karly and Alex, following them as they navigate everything from gynecologist appointments to drunken hookups. 
8. 'Next Time on Lonny'
Ben Stiller produces this cult reality TV parody series, which debuted on Cracked.com in 2011 but only released its second season last month after a pick up by Disney's Maker Studios. The show focuses on the outlandish and fantastical "next time" sequences at the end of a fictional reality show — kind of like the "on the next ... Arrested Development" sequences, but even crazier.
The A-List guest stars are a testament to the show's stellar quality — they include Parks and Recreation's Adam Scott, Harold and Kumar's Kal Penn and The Sixth Sense's Haley Joel Osment.
9. 'Local Attraction'
Creator and star Connor Hines has certainly hit on something Zeitgeisty with his new series Local Attraction, which chronicles the ups and downs (OK, mostly downs) of Tinder dating. If you've ever swiped right, or if you at least know what that means, then this is a must see.
10. 'F to 7th'
Created, written, directed by and starring Ingrid Jungermann, F to 7th chronicles the "homoneurotic" adventures of a queer woman on the cusp of middle age. Funny and poignant, F to 7th has been lauded as an unusually honest and nuanced portrayal of the oft-neglected topic of female homosexuality. As Splitsider's Luke Kelly-Clyne put it, "I was transported to a world of identity crisis, crippling neuroses, and botched social cues — a world made beautiful not because it was unlike my own, but because it was so exactly similar even though I'm a dude and this is a series about lesbianism."
The show also features appearances by top indie comedy stars like Gaby Hoffmann, Amy Sedaris, Michael Showalter, Olympia Dukakis and (her again!) Garofalo.
11. 'An African City'
Often described as "Sex and The City in Africa," this series follows five attractive, accomplished African women who decide to return to their home continent after years spent living abroad. Set in Accra, Ghana, the show follows the women as they navigate love, friendship, careers and super-high stilettos, shattering stereotypical portrayals of African women along the way.
"I was tired of the sole narrative of the African woman being about poverty and disease. I wanted to see another narrative — one of beauty, glamor and intelligence," creator Nicole Amarteifio told CNN.
12. 'Sound Advice'
When she's not busy being a bar mitzvah boy on SNL, Vanessa Bayer stars as host of the Above Average Web series Sound Advice, in which she plays Janessa Slater, an inept media coach who counsels musicians on their image. So far this has included guessing the etymology of 'Haim' ("What does Haim mean in Hebrew? Let me guess — 'she who parts hair in the middle?'") and suggesting Drake go on J-Date. So yeah, it's pretty great.
13. 'Speakeasy'
This long-running series from Made Man features the dapper comedian Paul F. Tompkins interviewing entertainment world icons over drinks. The ever-growing roster of celebrity guests includes Zach Galifianakis, Bill Hader, Masters of Sex's Lizzy Caplan, Breaking Bad's Bob Odenkirk and New Girl's Jake Johnson, among many others. The conversations are long and meandering, but in the best possible way, offering a good mix of comic banter and genuine insight. It's sort of like a laid-back Inside the Actor's Studio, with a few extra shots of social lubricant.