"Everyone Here Is a Target." What It's Like Living Under Attack in Gaza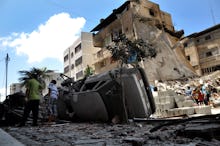 When three Israelis were reported kidnapped in Hebron back in June, I immediately knew that in one way or another, Gaza would be affected.
What I didn't expect was the massive military operation that my home has been enduring since July 8: a seemingly endless barrage of air strikes that have resulted in 175 deaths and 1,280 injuries so far, according to Gaza's Health Ministry. Once again, the 1.8 million Palestinians living in the besieged coastal enclave have to pay the price for everything that happens anywhere in Palestine.
Image Credit: AP. Mourners carry the bodies of the al-Batsh family, a family of 18 killed in an Israeli air strike, July 13.
This time, the offensive is called "Operation Protective Edge," but its announcement brought to mind memories of the last two operations that Gaza has faced, in 2008-2009 and 2012. The only difference is always the name.
Image Credit: AP. Blood in the streets of Gaza City after an Israeli air strike killed seven, July 12. 
The excuse was the same one that has been used to justify past attacks on Gaza: Hamas. The aim, we're told, is to destroy the infrastructure from Hamas and to stop the rockets being fired from Gaza toward Israel. But it's not just members of the group living in Gaza, there are civilians living here, who are paying the price for the ongoing violence. That's what international media outlets seem to forget: that it's people simply trying to live their lives that are paying the ultimate price. In this latest escalation, just like any other escalation, every Gazan is a target.
Image Credit: AP. An Israeli missile explodes in the south of Gaza, July 8. 
Since the start of the latest round of air strikes, life in Gaza has totally changed. In some ways, it has disappeared almost entirely. Gone is the usually festive spirit of Ramadan. Instead, Gazans are stuck at home, watching their loved ones being killed on television, and praying that it won't be them next. Death hangs over even the most mundane aspects of life.  Leaving home to go to the supermarket to stock up on food means running the risk of either being killed or injured.
Image Credit: AP. A man walks through the rubble of a home in Gaza City destroyed by an Israeli missile strike, July 14. 
And so, like any other time of escalation, no one in Gaza dares to leave their homes unless it is urgent, and my family is no exception. We are living our lives the way we usually do during these escalations: We stop going to work and school, we make sure that we have the essentials to survive without leaving the house and we focus entirely on following the news and praying for survival.
The nightly rain of Israeli rockets on the Gaza Strip has meant a Ramadan with sleepless nights. To adjust to this horrible situation, my sisters and I have been trying to sleep as early as we can, before the shelling starts, to be prepared for the sohoor meal before dawn (the meal Muslims have before the sun comes up for a long day of fasting).
Image Credit: Getty Images. Smoke and fire billow above Rafah, in southern Gaza, after an Israeli air strike, July 8.
I live with my extended family in one building, including my young nieces and nephews. To comfort them, we tell them that the loud explosions are part of a party, but they are too traumatized to even sleep. Gaza's young children, many of whom already suffer from post-traumatic stress disorder, will feel the impact of this most recent military operation long after it is over.
Image Credit: Getty Images. Children mourn the death of their relative, Adhem Abd Elaal, in Gaza City, July 14. 
Since I'm a journalist, I am not staying at home like the rest of my family, and I know that my parents wish that I chose a different profession. Even though on the surface I put on a strong face, one strong enough to cover the violence happening in my home, I am always terrified that I will be killed in a horrible way. Being a journalist doesn't protect me. On July 9, the car of Hamdi Shihab, a man working for Media 24, a local news agency, was bombed, despite having "TV" clearly indicated on it. Shihab was killed, and three of the journalists in the car with him were injured. That tragedy made me realize that no one in Gaza is excluded from the battle.
Image Credit: AP. The car of Shihab after being destroyed by an Israeli air strike, July  9.
Still, despite the risk, I am surprised by the boldness and bravery I have seen since the start of the escalation. Early into the offensive, I requested a cab from a cab service and asked that they send me a driver with no children, just in case something bad happens to us. When the car arrived, I was surprised to see an older driver with a large family.
"Are you sure you want to do this?" I asked.
"Come on," he responded. "You are speaking as if there is a safe spot in Gaza. Everyone here is a target, yallah (come on in Arabic), get in."
Living such an experience is not new to me, yet I always find it extremely hard to live with the possibility of being killed at any moment or losing a loved one. That fear, which lies in the heart of every Gazan, is the one that remains unheard in the international media's biased reporting. I want people to know that being stuck in a conflict zone without a permanent solution is like being in an endless nightmare, without even the hope of eventually waking up. Gaza is strong, so we adjust to the hardships of our daily lives. Even though I'm used to this life for myself, I only wonder if my children, when I get married, will have to live the same life I'm living.