Think Rape Culture Doesn't Exist? Read This Vile Email Sent to a Witness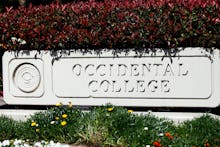 Rape is one of the most dehumanizing experiences — but for many trauma survivors and witnesses of such trauma, especially those who courageously speak out about their experiences, the victimization doesn't end with the assault. 
Such was the case for one female Occidental College student, who was subjected to the violent, misogynistic sting of rape culture this summer. Her account is detailed within pages of a lawsuit filed on behalf of "John Doe," an Occidental student expelled last year from the Los Angeles school after he was found liable for sexual assault. While legal documents from the case have been available online through the Los Angeles County Superior Court website for months, two days after the Foundation for Individual Rights in Education (FIRE), a civil liberties nonprofit supporting Doe, posted the documents themselves, one of the witnesses named in the case received a harrowing email.
According to the Huffington Post, the female witness, who requested anonymity out of fear of being subject to more harassment and threats, was sent emails from a stranger in Missouri threatening her safety and calling her a liar:
What kind of a radical fucking man hating dyke are you? ... Please, slice your goddamn wrists, nail your pussy shut and go wait tables before you harm someone else. It's bitches and whores like you who give women a bad name.
This absolutely should not still be happening at colleges and universities in 2014. But in an environment where 55 schools are being investigated by the federal government for potentially mishandling incidents of sexual violence on campus, the harassment may not surprise many.
According to research cited by the Rape, Abuse and Incest National Network (RAINN), 60% of sexual assaults go unreported. Even more alarming, 97% of rapists never spend a single day behind bars for what they've done, according to the organization.
Image Credit: Getty
"How can you feel anything but terror when you read through these vile comments online that are only directed at the survivor and the women in this case?" the anonymous witness told Huffington Post. 
The alleged attacker is being supported by civil rights attorneys from FIRE, who have previously fought  to protect First Amendment freedoms including actions such as protests, sit-ins and assemblies at America's colleges and universities. The lawsuit claims that the case resulting in Doe's expulsion didn't grant him due process under the law.
"Occidental is turning drunken sex into rape," the male student, now expelled, told the Los Angeles Times. "In an effort to curb the epidemic of sexual assault on campus, the pendulum is swinging too far the other way."
Unfortunately, it appears that in Doe's effort to protect his freedoms, witnesses are becoming collatoral damage. Indeed, of the nine witnesses detailed in FIRE's report, at least four have received these types of threatening, harassing communications.
It's messages like these that often prevent survivors and witnesses of sexual assault from reporting the incidents, keeping perpetrators held unaccountable and liable to put someone else in harm's way — tormenting countless other communities and families in the process. And when the survivor or witness speaking up is a woman, it's even worse within a society that has historically silenced the voices of women for decades at the behest of male perspectives and policy measures.
While we don't yet know the decision in the case at Occidental, the anonymous sender's threatening email underscores recent trends in the sexual assaults of young women, both at colleges and universities and even in high schools. And their chilling effect will make it harder for the truth — whatever that may be — come out as fewer and fewer people feel safe to speak to authorities.
Image Credit: RAINN
Within the past few weeks, images of 16-year-old Jada of Houston surfaced online, revealing what she recalled as being sexually abused by one or more men in her local community. After seeing the photos and having little recollection of how she woke up with her underwear on backward, she realized what likely happened. And when she spoke out, her alleged rapist mocked her on social media — not soon before her disheveled body was memefied by dozens of social media users via #Jadapose. 
Thankfully, the Internet eventually united to stand in solidarity with Jada. But her incident sadly also bears similarity to the Steubenville rape case from 2012. It was yet another incident involving the assault of a teenage girl, where photos and videos of the abuse went viral across the Web.
The only way we'll move out of rape culture and into a more sexually liberated social scene is if we actually talk about what's going on. But first, we need to create a culture where victims feel safe to speak out.
Correction: July 31, 2014. An earlier version of this article incorrectly stated the Foundation for Individual Rights in Education's full name. It also incorrectly implied that FIRE was the first organization to post the lawsuit documents, in fact they have been available through the Los Angeles County Superior Court website. The text has been updated to make it clear the threatening email quoted from was sent to a witness, not a victim.