What to Watch, Read and Listen to This Weekend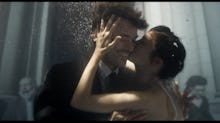 August has arrived, as has the weekend, and with it comes the perfect opportunity to lie back, relax and catch up on cultural goings-on. If you want to go to the movies, zen out with your headphones or catch up on this season's biggest reads, Mic has put together the perfect ways to spend your weekend.
This weekend's blockbuster choice:
This week is the week for cerebral action movies — quite literally in the case of Lucy — but if you're in the market for wise-cracking, bright-hued action and escapades, the movie to see The Guardians of the Galaxy. It's received rapturous praise from critics, and has the added benefit of director James Gunn, who knows how to make superheroes a bit kooky: He previously directed a weird Kick-Ass-esque film called Super, and his darkness, wit and love of comic books have transferred well to the Hollywood blockbuster.
This weekend's indie movie pick:
If you're feeling like something a little more art house, mellow and whimsical, look up Mood Indigo. Directed by Michel Gondry, whom you may remember from Eternal Sunshine of the Spotless Mind, this French romance brings surrealist tableaux, spoonerisms and Audrey Tatou suffering from a terrible illness: a flower growing in her lungs.
Netflix is a movie choice too:
If you don't want to leave the comfort of your bed, Netflix has just uploaded a whole bunch of new films for August. Top on our list are Evita, the Lohan-Curtis Freaky Friday and lots of Rocky installments. Vulture has a handy guide of all the additions, for your viewing pleasure. 
What to read this weekend:
Image Credit: Amazon
Coming Aug. 12 is Colorless Tsukuru Tazaki and His Years of Pilgrimage, Haruki Murakami's new book, and to tide us over until then is this early excerpt. This week also marks the paperback release of Unbroken by Laura Hillenbrand, meaning you should get your hands on a copy. This true story of an American athlete-cum-soldier who becomes a Japanese POW is not only a beautiful yarn in its own right, it's also being adapted for the big screen by Angelina Jolie. Now you can go to the theater with the earned smugness of the person who read the book before the movie.
What to listen to this weekend:
British band Jungle is still making waves with their self-titled album, released only a few weeks ago. But if you want to be up on your big new releases, La Roux just released her second album, Trouble in Paradise, this week, and the Scottish songstress seems to have won over critics all over again.