One Simple Video Captures the Biggest LGBT Victory in NFL History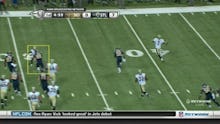 August 8, 2014: Michael Sam makes history by becoming the first openly gay player to appear in a preseason NFL game.
Image Credit: sp0rts via SB Nation
SB Nation reports the defensive end out of Missouri entered for the St. Louis Rams with five minutes left in the first quarter. His opponent was the New Orleans Saints' offensive line.
Here's what his first play looked like (Sam is No. 96 near the top of the screen):
Image Credit: SB Nation
How did he do? According to the report, Sam came into the game with fans enthusiastically cheering his name.
via SB Nation
It was a typical reception, considering the support Missourians have shown him ever since his college days. As for his play, SB Nation's Jeff Gray editorializes that the seventh-round draft pick was "off to a strong start." He made "a nice move to get into the backfield" and pressured the quarterback on his first possessions.
Image Credit: sp0rts via SB Nation
Still: Nothing is guaranteed for the 24-year-old. Sam is listed on the third-string of what SB Nation calls "arguably the best defensive line in the NFL," meaning he still needs to best the likes of William Hayes and Ethan Westbrooks to make the Rams' 53-man roster.
Image Credit: SB Nation
Plus: The absurd specter of his sexuality being a "distraction" still dogs his every move.
When Sam first came out in February, Sports Illustrated ran a piece highlighting anonymous NFL scouts, coaches and executives who expressed hesitance with the reception he'd receive as a gay man in the notoriously macho NFL. Some even claimed the league wasn't ready for an openly gay player, and advised teams against drafting him.
The "distraction" rhetoric surfaced again once the Rams selected Sam, and news broke that he'd signed with Oprah's OWN network to appear in a reality show about his journey to make the team. Many saw the move as ill advised: NBC Sports suggested he'd be "'alienating teammates' with the perception that he's trying to become a TV star while they're simply 'trying to make the roster.'"
Image Credit: AP
"It's an interesting case that he gets to work with Oprah and have his own show," one anonymous player told ESPN at the time. "But I think it does raise eyebrows and it may be somewhat of a distraction."
Not long after that, the St. Louis Post Dispatch reported the reality show would be postponed.
But: The implication that Sam's sexuality or extracurriculars would distract his teammates should be taken with a grain of salt.
After all, if "distractions" were truly a concern, one would think Baltimore Ravens running back Ray Rice beating his girlfriend and dragging her unconscious body out of a hotel elevator would cause more of a stir in the locker room. Apparently, the league thinks otherwise: The NFL has "punished" Rice by suspending him for two games at the beginning of the regular season.
Yet: Distraction or no, Sam is acquitting himself admirably under some of the more challenging circumstances in recent pro sports memory. Time will tell if he ultimately makes the roster, but for now, it's safe to say the man has accomplished something to be extremely proud of.
h/t SB Nation