This Unconventional Underwear Model Proves Imperfections Can Be Beautiful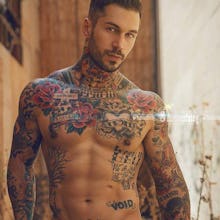 At first glance, the male underwear model on the cover of the September Out Magazine issue doesn't seem very special. Dark, muscular and covered in tattoos, Alex Minsky is your typical hearthrob. Or is he?
Minsky's ripped body is not the only reason his photo shoots are starting to turn heads — when it comes to what makes this model stand out, the secret lies more in what lies just outside the frame.
Image Credit: FuriousFotog via Facebook
Minsky is a former U.S. Marine corporal who was posted in Afghanistan, where he narrowly escaped death after a bomb explosion in June 2009. He was just 20 years old. Indeed, Minsky was burned so badly by the roadside bombing that his leg had to be amputated the same day. He also suffered severe brain injuries, which left him in a coma for over a month.  
Minsky was given the Purple Heart for his service, but his injury left him a physical and emotional wreck, mired in depression and alcohol. Salvation came in the form of photographer Tom Cullis, who spotted Minsky in a gym. One photo shoot after another followed and Minsky, now 25, gained a 350,000-strong social media following and became an inspiration to thousands dealing with the fallout from similar injuries.
"All I can ever tell anyone is what I know from my experience, and how I got through it," Minsky told Mic over the phone, just as he was putting on his prosthetic leg after a workout at the gym. "I love to see people getting better. I like to see people finding help when they think they need it."
Image Credit (both): Alex Minsky
Minsky's modeling has given him a new career, but the strength and hope he draws from this opportunity is a lesson in perseverance. "There's nothing I can do or say that can physically change someone's situation or what they are going through, but I can tell them that you have control over what you do, in this very moment," he told Mic. "No one else should control how you feel." 
The initial challenges were overcome through the setting of small, manageable and attainable goals every day and every week. "I realized that if I'm not moving forward, I'll fall behind, and I didn't want to go back to where I was," he said.
Recently, models Blake Beckford and Bethany Townsend have opened up about modeling while working through adversity. In Beckford and Townsend's cases, it is their colostomy bags. Similarly, fashion blogger Jillian Mercado earned rave reviews recently after scoring spots in mainstream campaigns like Diesel and Nordstrom, where her distinctive sense of style took center stage over her wheelchair. 
Just like these men and women, Minsky says he doesn't want to be a part of a "pity party," despite the fact that his serious injuries still bother him. Rather, Minsky wants people who are in similar situations to know they can achieve more than they ever assumed was possible. "There's no finish line," Minksy notes. "You have to keep living and keep facing the challenges every day."