One Festival Is Shattering Assumptions About 'Black Music'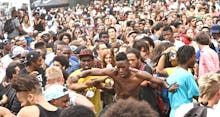 At first glance, the term "Afro-punk"" may seem like an oxymoron, a historical inaccuracy. The most famous bands in punk history, from the Ramones to the Sex Pistols to Black Flag, were made up of a particular subset of white culture, driven by adolescent angst, strangely passionate dispassion and musically enacted violence.
But if you head over to the Afropunk Festival this weekend in New York City, you'll find that the term makes perfect sense.
"If you were to define Afro-punk in one word, it's 'freedom,'" festival producer Jocelyn Cooper told the New York Times this week. The festival, begun in 2004, has grown over 10 years into a diverse behemoth — one of the most talent-stuffed, risk-taking summer festivals on the East Coast. You won't find festival mainstays like Diplo or Kings of Leon — just acts far more eclectic, adventurous and exciting that show the full scope and richness of black musicians' output.
The festival was started by two black artists, James Spooner and Matthew Morgan, who felt that the black cultural voice in America was becoming increasingly homogenized. They aimed to broadcast black musicians with different interests and aims than those in R&B or hip-hop to provide a kind of corrective to mainstream perceptions. The first festival was greeted enthusiastically, albeit by only 100 or so attendees.
Unfortunately black stereotypes in cultural settings still loom large. Just this week, the conversation about cultural appropriation and objectification started afresh with controversial videos from Taylor Swift and Nicki Minaj, cashing in on the "twerking" controversy almost exactly a year after Miley Cyrus' high-profile VMA performance. And while the Afropunk Festival is still committed to showing a different side of black culture 10 years later, the event has increased exponentially in attendance and scope.
The festival is no longer driven by largely white music like punk: It crosses the spectrum from metal to jazz to soul to fusion. Now, the term "Afro-punk" is treated as sort of an umbrella for black creativity and innovation, encompassing the sounds you might not hear on the radio, regardless of genre.
Bad Brains and Shabazz Palaces, for example, have little in common musically or thematically — the former is a punk and reggae group from 1970s and '80s Washington D.C., while the latter is a current hip-hop posse from Seattle. You'd be hard pressed to find musical similarities between Bad Brains' 1996 raging single, "I Against I," and Shabazz Palaces' warping 2014 hashtagged masterpiece "#Cake." But what they share is a rule-breaking spirit and a disdain for the mainstream culture — an impulse to experiment sonically in a way other artists wouldn't dare to. They will both be welcomed at the festival with open arms.
Beyond those two groups, the festival features famous artists trying risky things and obscure hustlers trying to make the leap. There's Ice T, who's resurrected his rap-metal group Body Count on the heels of a new album, Manslaughter; delicate chanteuse Lianne La Havas, bringing a much more peaceful and nuanced sensibility to the proceedings; and LOLAWOLF, whose frontwoman, Zoe Kravitz, is making every effort to separate her legacy from her dad Lenny's through fuzzy synthesizers and rolling electronic beats.
The diversity means that fans of only one genre will likely leave disappointed. Instead, the festival encourages open-mindedness and an embrace of all that's weird, ambitious, and unexpected. The festival hosted Janelle Monae before she as a name known by anyone — so you never know who you'll see. Head over to Commodore Barry Park in Brooklyn to catch the next monster act before it lands, overhyped, in your run-of-the-mill concert hall.