A Columbia University Student Will Carry Her Mattress Everywhere Until Her Rapist Is Put to Justice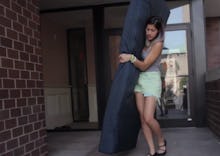 When the fall semester started at Columbia University on Tuesday, senior Emma Sulkowicz came to campus toting an unusual back-to-school accessory — her mattress.
For as long as her alleged rapist continues to attend the university, Sulkowicz, who is set to graduate in 2015, plans to carry around the twin-size mattress wherever she goes in order to raise awareness of what she says is the Columbia administration's unjust handling of her case. 
Sulkowicz is one of 23 students who filed a federal Title IX complaint against the Ivy League school in April for mishandling sexual-assault cases, a crisis that has gripped colleges across the country. Sulkowicz herself says she was raped by her classmate on the first day of her sophomore year in 2012, but was denied justice by an insensitive and ineffective disciplinary committee, which dismissed her case and those of two other students who had accused the same man of raping them. 
With no resolution to her trauma in sight, the visual-arts major decided to carry around the intimate symbol of her violation, transforming her trauma into a powerful protest as part of her performance-art thesis piece called "Mattress Performance or Carry that Weight."
"I was raped in my own dorm bed, and since then that space has become fraught for me," the 21-year-old says in a video published by the Columbia Spectator. "And I feel like I've carried the weight of what happened there with me everywhere since then."
As Sulkowicz wrote earlier for TIME, people often don't realize the emotional aftershocks of sexual assault. "One friend asked me if I thought that my rapist would be expelled from school," she wrote. "I said, 'I really hope so.' And he said, 'Poor guy' because I think many men see rape as kinky sex that went wrong."
And the police don't necessarily help, either.
Sulkowicz notes that after finally gathering the strength to make a formal police complaint, law enforcement treated her with skepticism. "After you've been physically violated the last thing you want is to have a policeman who is high on his own power telling you that everything you've just experienced is invalid," she told the Daily Intelligencer. 
The use of her mattress was a specific choice, Sulkowicz notes, one that was representative of her experience.
"I could have taken my pillow, but I want people to see how it weighs down a person to be ignored by the school administration and harassed by police," she told Guardian's Jessica Valenti. 
Image Credit: YouTube/Columbia Spectator
Columbia has been at the center of an ongoing national debate about the way sexual assaults are handled on campus, due in large part to the actions of it students. Earlier this year, the names of alleged rapists appeared scrawled on some bathroom walls on campus, and students protested what is perceived as a lack of caring on the part of the administration by wearing red tape on their graduation caps and refusing to donate until issues are resolved. But Columbia is not alone: More than 60 U.S. colleges are currently under federal investigation for possible violations of Title IX and mishandling of sexual assault cases. 
So far, Sulkowicz's statement seems to be resonating far beyond the gates of the New York City institution, but whether it will spur meaningful change on campus is yet to be seen. In the meantime, Sulkowicz said she remains traumatized by the sight of her rapist roaming free.
"Every day, I am afraid to leave my room. Even seeing people who look remotely like my rapist scares me," she told TIME. "Last semester I was working in the darkroom in the photography department. Though my rapist wasn't in my class, he asked permission from his teacher to come and work in the darkroom during my class time. I started crying and hyperventilating. As long as he's on campus with me, he can continue to harass me."