12 Images Show What It Really Means to Play Like A Girl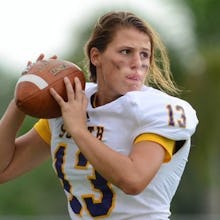 Little League history-maker Mo'ne Davis made it known on several occasions that she wants to become the first woman to play in the NBA, but she wouldn't be the first lady to make her mark among the boys.
1. Mo'ne Davis
Ever since this 13-year-old baseball player made history with a complete-game shutout for the Taney Dragons at last month's Little League World Series, Davis' name has been everywhere you look — the cover of Sports Illustrated, the Tonight Show and countless athletes' Twitter feeds. 
ESPN's broadcast of the U.S. semifinal game Davis started scored an all-time high for its Little League coverage, with a 3.4 overnight rating. Davis herself started finding it odd that adults were running up to her for autographs. The Geno Auriemma call notwithstanding, it would be inspiring to see Davis break more barriers and play against more men, as she aspires to, in the MLB or NBA.
2. Jackie Tonawanda
Tonawanda was a badass boxer: Of the 36 bouts she won, 34 were knockouts. Growing up in New York, Tonawanda had always been fascinated by boxing, but wondered why she didn't see any women competing. So in 1975, she filed and won a suit against the New York State Athletic Commission to allow women to get pro boxing licenses. In doing so, she created the stepping stones for boxers such as Christy Martin and Laila Ali, later lamenting that her efforts were lost in oblivion. 
What was not forgotten, however, was her signature bout at Madison Square Garden. The 5-foot-11-inch Tonawanda, who was the first woman to fight at the iconic arena, knocked out her male opponent, Larry Rodania, in just the second round of a five-round kickboxing match. She truly paved the way for a lot of women who beat the boys. 
3. Judit Polgár
In the world of chess, Polgár, 38, arrived as a prodigy and is still considered a living legend. Just to put her prowess on the board in context: Polgár, the youngest of three chess-playing sisters, has been the world's No. 1 female player for almost 25 years. But Polgár never made much of that, because she always wanted to compete with and beat the men. At only 11, Polgar beat a Grandmaster, Lev Gutman, and when she attained the final GM norm at 15 years, four months, she broke Bobby Fischer's record to become the youngest GM at that time.
While there's no doubt Polgár is the greatest female chess player in history, she emerged victorious time and again against several top-ranked male players and world champions, including Magnus Carlsen, Viswanathan Anand, Anatoly Karpov and Veselin Topalov.
Garry Kasparov, who lost to her in 2002 while he was world champion, once remarked, "She is, after all, a woman... It all comes down to the imperfections of the feminine psyche."
4. Billie Jean King
If not for King, the Women's Tennis Association wouldn't have been founded and recognized for many years. And for who knows for how long, Grand Slams would have stuck to different prize money for men and women. King, who won 39 Grand Slam titles (including those in doubles and mixed), was not just a tennis player of great repute, but a women's rights pioneer.
When Bobby Riggs said that even at 55, his tennis was much better than the women players of the day, King decided to take him up on that challenge. The Battle of the Sexes, in which Riggs had earlier defeated Margaret Court, took on a new meaning. And in front of an audience of more than 30,000 at the Astrodome and countless more on TV, King humbled Riggs.
"I thought it would set us back 50 years if I didn't win that match," King said. "It would ruin the women's [tennis] tour and affect all women's self-esteem."
5. Jackie Mitchell
When Babe Ruth saw a 17-year-old left-handed girl standing on the mound to pitch at him during a 1931 New York Yankees exhibition match, he "assumed an easy batting stance." Ruth passed her first pitch and missed the next two before asking for the ball that the girl was using to be inspected.
That girl was Jackie Mitchell, from Chattanooga, Tenn., who went on to strike out Lou Gehrig in that game too. Within days of that much-talked-about match, which saw a 4,000-strong turnout for a local game, MLB commissioner Kenesaw Mountain Landis cancelled Mitchell's contract with the minor-league Chattanooga Lookouts. His reason? Professional baseball would be "too strenous for women."
6. Babe Zaharias
Named after Babe Ruth because of her baseball talent, Zaharias was such a multi-dimensional athlete, a Time magazine story in 1939 described her as a "famed woman athlete, 1932 Olympic Games track and field star, expert basketball player, golfer, javelin thrower, hurdler, high jumper, swimmer, baseball pitcher, football halfback, billiardist, tumbler, boxer, wrestler, fencer, weight lifter [and] adagio dancer." 
When Zaharias set her heart on golf in her twenties, she became a sensation, winning 41 titles and playing on the men's tour. Unlike players who got sponsor spots, Zaharias qualified and made the cut for some of these PGA tour events, like the Phoenix and Tuscon Open in 1945, where she came out of the qualifying rounds.
She attempted to qualify for the U.S. Open in 1948, but the USGA rejected her application with the same old excuse: Hey, we're men's only.
Zaharias teeing off in a men's lineup is so exceptional because after her, it took 58 years for a woman to play on a course among men. The PGA finally extended an invitation to Annika Sorenstam in 2003 to become the second woman to compete in a PGA event. 
7. Madge Syers
Women competing in the World Skating Championships was such an improbable thought at one time that the event's rulebook completely omitted a gender prohibition. So when Madge Syers became the first woman to compete in the otherwise all-male 1902 world championships, the International Skating Union quickly cracked down on her with some ridiculous rationales: How will we see a woman's feet movement because of her dress? What if a male judge becomes attached to a participant? And how can men be compared to women in such a competition?
But thankfully for Syers, the silver medal she won in that debut championship wasn't her last. Her home events in Britain didn't discriminate against her gender, and she won the national singles skating event in 1903. The following year, she defended her title by defeating a special man — her husband, Edgar Syers, who had coached and encouraged her to compete with the men. 
8. Erin Dimeglio
When two Florida high school football teams, South Plantation High and Nova High, took to the field in 2012, the Paladins' quarterback had a ponytail hanging out of her helmet. At 18, Erin Dimeglio is believed to have become the first girl in state history to play as quarterback, football's premier position, in a varsity high school football game. 
It made for a great moment when coach Doug Gatewood sent Dimeglio to join an all-boys huddle in the middle in the crucial minutes of the game. From playing football in parking lots to making history in the most macho American sport of all, it had been an overwhelming journey for the 5-foot-6-inch player that night.
Since that night, Dimeglio has taken up residence at the basketball court for Eastern Florida State College.
9. Manon Rhéaume
Among Rhéaume's many historic firsts as an ice hockey goaltender, becoming the first woman to play in any of Canada's four major pro leagues was the most significant. When the NHL tried to sign her onto a professional team in 1992, reactions ranged from "A woman at a training camp?" to "Are you insane?" While some contended that Rhéaume, now 42, was given a Tampa Bay Lightning contract as a marketing ploy to turn heads, she's still been the only woman to compete in an NHL preseason game.
Rhéaume went on to win gold medals at the Women's World Championship in 1992 and 1994 and the silver in the Winter Olympics of 1998. 
10. Janet Guthrie
Tony Hulman may have spoken the most iconic words in auto racing, when in 1977 he announced to a 250,000-strong crowd: "In company with the first lady ever to qualify for Indianapolis — gentlemen, start your engines."
That woman was Janet Guthrie. What began with her driving the No. 68 Chevrolet in the 61st edition of the race culminated with a Rookie of the Year honor. Beyond the track, she got a pilot's license at just 17, graduated from the University of Michigan with a degree in physics and was accepted by NASA's first scientist-astronaut program. She brought that go-getter spirit to the Indy track, and after just a year of racing founded her own team. 
After her last race, the 1980 Daytona 500, Guthrie said, "I didn't retire... I ran out of money."
11. Nancy Lieberman
Before the WNBA, Nancy Lieberman was playing hoops with the guys. As if being the youngest basketball player in Olympic history or making it to the U.S. national women's team was not enough, Lieberman kept pushing the boundaries.
In 1986, she played with the men's team Springfield Fame of the United States Basketball League, and in 1987, she joined the USBL's Long Island Knights. The following year, Lieberman toured the world as a member of the Washington Generals, playing foil to the Harlem Globetrotters.
Even after being the oldest player to play in the WNBA, first at 39 and then in an appearance at 50, this Hall of Famer's journey didn't end. She became the first women to coach a men's team in the NBA umbrella when she took on the Texas Legends, the Mavericks' NBDL affiliate.
12. Ashley Martin
While she was attending Jacksonville State University on a full soccer scholarship, Ashley Martin made history in another sport. Martin became the first woman to play and score in a Division I football game in 2001 when she kicked three extra points in the Gamecocks' 72-10 victory over Cumberland University. 
As she arrived on the field, the crowd gave her a standing ovation, but Martin told Good Morning America she did not even look up to see what was happening. While women had suited up in NCAA in the past, they were either not sent on the field or did not score.