These Brilliant Teen Girls Just Helped Solve World Hunger at a Science Fair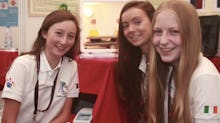 The news: Three women may have just solved world hunger. And the best part — they're all teenagers. 
Three Irish teenagers — Emer Hickey, 16, Sophie Healy-Thow, 17, and Ciara Judge 16 — took home top honors Monday at the annual Google Science Fair, which highlights achievements in groundbreaking discoveries.
"I'm in shock, I didn't think we would win," Judge reportedly said right after winning.
The trio figured out a way to use a naturally occurring strain of bacteria that could be injected into barley and oats and increase crop yield by 75%. Confused? The girls explain it in the video below:
A rocky start: By aiming for such a specific and unusual outcome, the girls faced an uphill battle with resistance from adults in their lives who said their experiment of implanting the seeds with bacteria wouldn't work. And at first, it seemed like they were right — the girls pulled up a pea plant and saw the bacteria formed nodules on it. 
"We thought we were killing it," Hickey said. But they pushed forward, and their determination reaped a major reward in the form of a $50,000 scholarship and a 10-day trip to the Galapagos Islands. If that doesn't light a spark under anyone, we don't know what will.
A worldwide problem: The Food and Agriculture Organization estimates that 842 million people are hungry, and the girls' solution could be a good starting point. 
"We were actually learning all about the food crisis and how people are starving," Hickey told Mashable. "We thought why don't we try and help with the scientific way. We put two and two together and tired to do something and it happened to work."
Luckily, that two and two worked very nicely and the results were astounding with far-reaching possible applications. 
"It has a lot of implications," Hickey said. "By the year 2050 we actually need 50% more food just to feed everyone."
Image Credit: WFP
An inspiration for other: Besides finding one way to solve the overwhelming problem of world hunger, the trio's inspiring discovery might encourage more girls like them to pursue science. 
Only 26% of girls are in science, technology, engineering and technology (STEM) professions, a precariously low figure considering the number of women who study these fields but are later muscled out. For their part, Google is encouraging more of women and girls to get in to the fields and last month pledged $50 million to coding classes and workshops to inspire girls into entering computer science. 
But the girls still have a lot of work on their plates. They plan on studying even more about the bacteria's impact on barley and oats.
"We're not even finished yet," Hickey said. We're not betting against them.