5 first-time voters of color explain what's driving them to the polls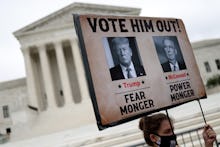 Win McNamee/Getty Images News/Getty Images
With less than a month to go, the 2020 presidential election is shaping up to be one that will stand out in political memory for some time. It's not simply the Democratic push to remove President Trump from office following years of critique of his authoritarian leanings or Trump's hints that he may not go quietly that is making this year unlike any other. It's also the fact that this election is occurring in the middle of the coronavirus pandemic — which has claimed the lives of over 216,000 people in the U.S. so far — and immediately following a summer defined by civil unrest as protesters nationwide rallied against systemic racism in policing.
Early on, voters saw the potential consequences of heading to the polls in-person in a pandemic when coronavirus cases spiked in Wisconsin following an in-person election. Since then, Democrats have pushed voting by mail as an alternative to ensure that everybody gets a chance to cast their vote safely. However, Trump's transparent attempt to sabotage mail-in voting by consistently attacking the United States Postal Service has made the process even more stressful, with some expressing concerns that their ballots may not be counted at all.
In many ways, the 2020 presidential election is unprecedented. There are a number of issues exacerbated by the pandemic driving people to the polls: climate change, racial justice, housing insecurity, health care. Amid all of this, it's easy to miss the voices and experiences of new voters who are trying to navigate the system for the first time. Mic spoke with five youth of color about what's driving their votes this year, and their experiences navigating a political landscape that nobody in living memory has ever really seen before.