The 8 best men's underwear for hot weather
We only recommend products we love and that we think you will, too. We may receive a portion of sales from products purchased from this article, which was written by our Commerce team.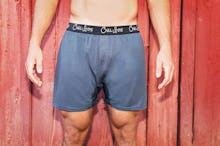 Amazon
When the air is hot and humidity levels are high, the right pair of underwear will remain virtually undetectable — which is how it should be. The best men's underwear for hot weather is better suited for handling moisture, friction, and heat. Granted, since the vast majority of brands are marketed as "cooling," it can be difficult to tell the gimmicks from the worthwhile options.
What to consider when choosing a pair of underwear
First, you'll need to pinpoint a style, and it seems the age-old boxers versus briefs debate is about more than mere fashion. Science has shown that men who wear looser-fitting underwear have a higher sperm concentration and overall count; this is due to the fact that the scrotum is designed to remain at a distance from the rest of the body in order to retain a cooler temperature.
That doesn't necessarily mean that you should stop wearing briefs and trunks altogether; it just means that, especially in warmer weather, breathable fabrics and cooling qualities are paramount in tighter-fitting styles. Overall, loose boxers will be the coolest but also the most likely to chafe due to excess fabric.
Once you've narrowed down your preferred style, the next biggest factor will be material choice. Bamboo is likely the best natural fabric because it's highly absorbent yet quick-drying and soft. For that reason, it's a good choice for those with skin sensitivities who find cotton too stifling. Fibers like modal and polyamide are close seconds in terms of cooling qualities, and they can be either synthetic, natural, or a mix of the two. Finally, some brands utilize polyester or other entirely-synthetic fabrics, which can help with temperature control so long as they feature mesh or similar ventilating weaves.
With all that in mind, these are eight of the best men's underwear choices for hot weather.
Study referenced:
Mínguez-Alarcón, L., Gaskins, A., Chiu, Y., Messerlian, C., Williams, P., & Ford, J. et al. (2018). Type of underwear worn and markers of testicular function among men attending a fertility center. Human Reproduction, 33(9), 1749-1756. https://doi.org/10.1093/humrep/dey259
This article was originally published on