35 things you're accidentally neglecting in your home & it's going to cost you later
Upkeep is a drag, but keeping an eye on these things will save you money down the line.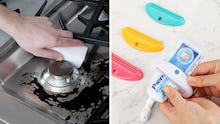 We may receive a portion of sales if you purchase a product through a link in this article.
Your home is always going to be a work in progress, and knowing which mistakes will cost you down the line is just a part of adulting. And luckily, there are plenty of clever home products that will keep you from having to spend unnecessary cash on problems that are easy to fix now.
If you're constantly tossing out spoiled fruits and veggies, you can get these biodegradable produce sheets that extend the life of your food. Or, if you have a slow-draining sink, don't wait until it's bad enough to call a plumber — use this clog-dissolving solution to get things flowing ASAP. Keep reading to find more wallet-friendly home upgrades that will save you in the long run.