Thinx has been the subject of multiple lawsuits. Now they're paying up.
If you've purchased the brand's period underwear, you may be able to get some cash.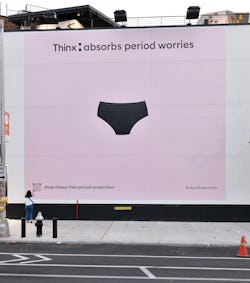 Eugene Gologursky/Getty Images Entertainment/Getty Images
Since its 2014 launch, Thinx has been arguably the most well-known period underwear brand on the market. But it's also been the subject of multiple lawsuits stemming from its claims of selling "organic, sustainable, and non-toxic" undergarments. Last year, the company reached a settlement deal in a class-action lawsuit to pay up to $5 million to customers who bought Thinx products in the last six years — and as of this week, those customers can officially submit their claims.
The class-action suit, filed in May 2022, alleges the multimillion-dollar company "has led consumers to believe that Thinx Underwear is a safe, healthy and sustainable choice for women, and that it is free of harmful chemicals." However, "in reality, Thinx Underwear contains harmful chemicals, including polyfluoroalkyl substances ('PFAS') and silver nanoparticles, which are a safety hazard to the female body and the environment."
Per the suit, independent third-party testing revealed the presence of PFAS in Thinx products, though Thinx "denies all of the allegations made in the lawsuit" and "confirms that PFAS have never been part of its product design," according to the settlement website.
In recent years, multiple studies and reports have revealed the presence of PFAS — also known as "forever chemicals" — in everything from cookware, to beauty products, and even rainwater. As the name suggests, the chemicals don't degrade, thus remaining in the environment (and in living human tissue) for decades. According to the CDC's Agency for Toxic Substances and Disease Registry, high levels of some types of PFAS can potentially lead to significant health issues, like increased cholesterol levels, changes in liver enzymes, decreased vaccine response in kids, increased risk of kidney or testicular cancer, and more — though more research is needed to understand how much our bodies actually absorb.
According to the class action lawsuit, PFAS treatments are "typically" used on apparel to make the textiles "water repellant and/or stain resistant."
Though the settlement website makes clear that deal "is not an admission of guilt or wrongdoing of any kind by Thinx," the company did agree to "continue to take measures to help ensure that PFAS are not intentionally added to Thinx Period Underwear at any stage of production."
The settlement covers 10 different underwear styles purchased between Nov. 12, 2016 and Nov. 28, 2022. You can view the eligibility details and file a claim on the Thinx Underwear Settlement website; just make sure you send it in before the deadline, no later than April 12, 2023.