Your cat would be so much easier to take care of if you had any of these genius things
You could say these picks are purr-fect.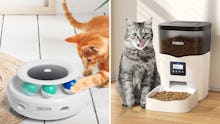 We may receive a portion of sales if you purchase a product through a link in this article.
If you have a cat you know that there are some things you love about them — cuddles, companionship, affection — and some things you don't love as much — hairballs, litter boxes, furniture scratching. All in all, the not-so-great stuff can be a lot of work. That's why I've compiled a list of genius things that make taking care of your cat so much easier.
From interactive toys that will keep your pet entertained to easy-to-clean grooming brushes, there's a variety of clever items that will keep your cat (and you) happy, healthy, and relaxed. So if you want to focus on the things you love and reduce the things you don't, keep scrolling.