This Powerful Video Perfectly Sums Up How the Media Fails Women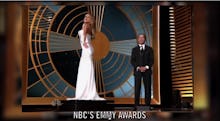 For the last three years, the Representation Project, a nonprofit organization that aims to expose the problematic ways we depict women and men in the media, has done a round-up highlighting some of the most sexist moments in media this year.
The video, Demand Better Media in 2015, takes stock of the best and worst moments of the past year with the goal of pushing for better representation in the months ahead.
Some of the successes touted in the video include Laverne Cox gracing the cover of Time Magazine, Mo'ne Davis pitching her way to stardom on the cover of Sports Illustrated, Emma Watson's speech at the UN, Beyoncé dancing in front of the word "feminist" at the VMAs and Shonda Rhimes bringing complex female characters' milkshake to the yard. 
Unfortunately, for every feminist success there are many more sexist setbacks. The cringe-worthy Sofia Vergara spinning statue moment at the Emmy's comes to mind, as does Fox News' "boobs on the ground" comment, made after a female fighter pilot led air strikes against ISIS.
And it doesn't stop there. As the Representation Project notes, these archetypes hurt men, too. For far too many male characters, status and power is still tied to performative aspects of traditional masculinity like bullying, violence and misogyny. 
Still, there's reason to be hopeful for the year ahead. Early indicators are promising, from Selma director Ava DuVernay becoming the first African-American woman to ever be nominated in that category at the Golden Globes, to Leighton Meester's comments about feminism.
2015 is off to a pretty good start, but the message of the video is clear: We can't stop now. Let's make this year different. Let's demand even better.
Image credit (all): Representation Project