Pope Releases Doves of Peace — And It Goes Terribly Wrong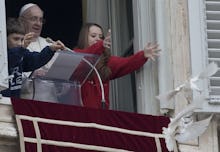 It was meant to be a quick and simple gesture: During the Vatican service on Sunday, Pope Francis released two doves with a couple of children to pray for peace in Ukraine. But as tens of thousands watched, the ceremony turned into a sitcom-worthy gag as a seagull and a crow descended to viciously attack the doves.
During the weekly Angelus Prayer in St. Peter's Square, the pope spoke about the ongoing violence in Ukraine. But the ceremonial releasing of doves quickly went awry when a seagull swooped in to attack a dove, which luckily escaped after losing a few feathers.
The other dove was not so lucky: It was viciously pecked by a crow until it was chased out of view.
Without reading too much into the sight gag, the tragicomical mishap comes at the heels of some big announcements from the Vatican. During his short tenure, Francis has already tackled rather big issues, from poverty and war to the status of LGBTQ people in the Church. But while he has been heralded as a revolutionary figure, others have taken issue with the pope's unwillingness to compromise on certain positions, such as his opposition to abortion and his unwillingness to consider women in the priesthood.
Though Sunday's bird attack looked as though it was ripped straight out of Arrested Development, it serves as a helpful reminder that even the promising of omens can go astray, and that it is prudent to temper one's expectations.
Francis is shy of a year into his papacy. While his speeches have made waves and invited all sorts of snap judgments, it would be wiser to give the pope time to demonstrate his beliefs through his actions, rather than be blinded by hope.
After all, one wouldn't want to be caught unawares.
Image Credit (all): AP