Russian Ambassadors Say They'll Take Alaska, Scotland, Venice, and Catalonia Next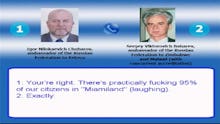 The crisis in Ukraine is devolving into a scene straight out of Mean Girls as diplomats trash talk each other in public, listen in on phone calls, and leak private information.
This incident might take the cake, though. A new recording has surfaced online, purportedly capturing a secret phone conversation between two Russian diplomats: Igor Chubarov — the ambassador to Eritrea — and Sergei Bakharev, the ambassador to Zimbabwe and Malawi. The two men curse (pretty explicitly) the UN's condemnation of the Russian annexation of Crimea, and trade jokes about where Russia can invade next.
"We've got Crimea, but that's not fucking all folks. In the future we'll damn well take your Catalonia and Venice, and also Scotland and Alaska," Chubarov supposedly says, adding that it might also be good to take over "all those fucking border countries", such as Estonia, Romania and Bulgaria.
"Oh no, it's better not to touch them. We are not going to kick them in. It'll be better for us to disturb Californialand, Miamiland, that sort of desolated regions," responds the voice labeled as Bakharev, and the two men laugh about holding referendums there.
Listen to the rest of the recording below:
The release of this recording follows the February leak of a phone call between Victoria Nuland, the top State Department official for European and Eurasian Affairs, and Geoffrey Pyatt, the U.S. ambassador to Ukraine. Nuland was heard saying "Fuck the EU" in response to the EU's slow decision to impose sanctions on the Ukrainian government. She later confirmed the authenticity of the recording and apologized to EU diplomats.
While these leaks provide an entertaining, behind-the-scenes look at international diplomacy, they also highlight real geopolitical tensions that threaten to boil over. Russian officials have repeatedly joked about taking over Alaska, and NATO and Pentagon experts believe that the country may be prepping for a large-scale expansion in Eastern Europe.
And as Catalonia, Venice and Scotland hold their controversial independence referendums, they provide an easy target for Russian diplomats to ridicule: how can the EU contest the legitimacy of the Crimean annexation when it can't even control its own member states?
If we can learn anything from these phone leaks, it's that in the 21st century, Cold War tradecraft has evolved into Regina George-style bitchiness. When will Putin release his "burn book" to the public?
Image Credit: Tumblr