The 12 Most Viral Images You May Have Missed This Week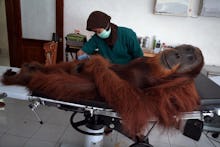 Here's the week that was, in pictures.
1. Celebrating Holy Week
Members of the Santisimo Cristo del Salvador' brotherhood march during a Holy Week procession Friday in Valencia, Spain.
Spain celebrates holy week before Easter, and most Spanish towns have their own processions.
2. The Blood Moon
This is one crazy moon. On Tuesday morning, a "total lunar eclipse" turned Earth's lunar body into either a deep shade of red or a rich copper, depending on your location. Read more about the science behind blood moons here.
Bonus moon pic:
3. Chill-Ass Orangutan Does Not Give a Shit He Got Shot
This orangutan is mad chill. So chill, in fact, that the 14-year-old primate doesn't seem to care that he's having air gun pellets removed from his body after he was found shot in Langkat district in Sumatra. Poaching and the conversion of their habitat into palm oil plantation has unfortunate made orangutans a criticially endangered species.
4. Joe Biden Is the VP Of Cool
The vice president is now on Instagram, and his first image was a glory to behold. As we wrote at the time:
"What will Biden bless us with next? A play by play through his latest score of some grade A copper wire? A photo tour of his latest unplanned vacation to Mexico? Selfies with senators' mothers? Or maybe he could photo-log his way across the nation with some bikers, the wind in his lustrous hair, a Coors Light in his left hand and the middle finger on his right pointed at a Nevada state trooper."
5. Fully-Armed Ukrainian MiG-29 Buzzes Separatist Forces
It's not just ground forces flexing their muscle in the Ukraine, either. This video shot in Slovyansk of a fully-armed Ukrainian Mikoyan MiG-29 fighter jet aggressively intimidating separatist forces shows just how nerve-wracking and palpable tensions have become, threatening to explode into violence.
6. Kepler-186f, the First Rocky, Earth-Sized World Discovered Outside Our Solar System
This artist's depiction of Kepler-186f, a mid-sized world found on the edge of the so-called "habitable zone" of dwarf star Kepler-186f, shows what the planet might look like on a flyby. Scientists currently don't know much about the recently discovered planet other than its size and a high likelihood that it has a rocky surface, but say that it could have bodies of liquid water. The discovery of Kepler-186f also implies Earth-sized planets in the habitable zones of nearby stars may be commonplace throughout the universe.
7. Portland Teen Named "Dallas Swonger" Ruins Entire Reservoir
Some Portland, Oregon teens are in a heap of trouble after officials caught them on camera scaling the fence to urinate into the city reservoir, forcing Water Bureau staff to dump 38 million gallons of water.
The full video is below:
In an interview with Vocativ, perpetrator Dallas Swonger (yes, that is his absolutely unbelievable real name) claimed he didn't actually pee in the water.
"I was like, 'Dudes I have to piss so bad' ... So I just went over to the wall [of the reservoir].I leaned up against the wall and pissed on it. Right there on the wall, dude. I don't know else how to describe it."
"Yeah, it's fucking retarded dude. Like, how they can do that? How can they be like, 'Yeah, we're gonna flush all that water.' Dude, I've seen dead birds in there. During the summer time I've see hella dead animals in there. Like dead squirrels and shit. I mean, really, dude?"
Portland Water Bureau administrator David Shaff was not amused:
"When you see the video, he's leaning right up because he has to get his little wee wee right up to the iron bars. There's really no doubt what he's doing."
8. Pro-Russian Troops Storm Eastern Ukraine
The steadily escalating Ukrainian crisis went to the next level this week, with armed forces loyal to both Russia and the Ukrainian government facing off in tense but largely bloodless standoffs. This photo shows a pro-Russian gunman clearing the way for camouflauge-wearing troops riding a combat vehicle in Slovyansk on April 16. 
9. Text Messages From Sinking South Korean Ferry Revealed as Hoax
These supposedly heart-breaking texts were allegedly sent from desperate passengers on a overturned South Korean ferry which may have carried as many as 276 people to a grisly demise. Mashable provides a translation:
9:27 a.m. - Mom, I'm sending this message now in case I don't get to say it later: I love you.9:34 a.m. - Why..? I was wondering why you weren't checking your KakaoTalk (a Korean messaging app similar to WhatsApp).9:36 a.m. - Me too, son.. I love you..
However, the images were later revealed as a hoax, with South Korean authorities apparently taking the matter very seriously. A suspect is under investigation for falsifying text messages which were then picked up by legitimate news outlets.