This Weekend's 3 Biggest News Stories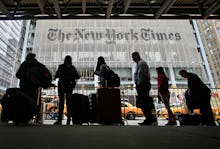 Here's the news to get you up to speed.
1. The New York Times publisher makes another public statement about Jill Abramson's firing.
On Saturday, New York Times publisher Arthur Sulzberger, Jr. released a statement explaining the real reason for letting go of former Executive Editor Jill Abramson. It wasn't about compensation or gender, but issues with her leadership style and how she worked with the paper's staff. 
"During her tenure, I heard repeatedly from her newsroom colleagues, women and men, about a series of issues, including arbitrary decision-making, a failure to consult and bring colleagues with her, inadequate communication and the public mistreatment of colleagues," Sulzberger wrote. 
Last Wednesday, the media world was shaken when it heard the New York Times had decided to replace Abramson as the paper's executive editor, the first female to hold that position for the company. Immediately, people began to speculate why she was really fired — pay gap and sexism were two of the more hot-button explanations floating around.
Some people weren't satisfied with Sulzberger's statement:
2. The MERS virus may now be able to spread from human to human.
The Middle East Respiratory Syndrome Coronavirus (or MERS), a deadly and poorly understood virus, has reportedly started spreading between humans. Until now, the virus was only contractible via animal contact (including camels and bats).
Near the end of April, the Middle East Respiratory Syndrome Coronavirus (or MERS) began to appear in the news as it started spreading at alarming rates in the Middle East. Earlier this month, the virus made its way to the United State. Concern remained low because it was thought to be relatively incommunicable between humans. 
However, the Centers for Disease Control and Prevention said in a press release that an Illinois man has preliminarily tested positive for MERS after he made contact with an Indiana man who contracted the virus abroad. 
NPR points out it's unclear why MERS has been on such a rise lately, noting, "This rise in numbers could just be because we're more aware of the illness and are better at detecting the virus."
In America, the virus seems to be contained for now — and hopefully it will stay that way. There is no vaccine and it would likely take at least three years to develop one. 
3. Vietnam protests against China turn ugly.
China has announced plans to send a small fleet of ships to evacuate its citizens from Vietnam where anti-Chinese protests have flared up and, this weekend, turned violent.
"Last week, 3,000 Chinese nationals were evacuated from Vietnam, according to China's foreign ministry ... They fled mass riots that left two Chinese dead and more than 100 injured, according to China's government," reports NPR.
Earlier this month, reports surfaced that Vietnam's distaste with China was reaching a boiling point. Some of the conflict stems from a large oil drilling rig China had planned to build in Vietnamese waters. When China planned to go ahead with their construction despite Vietnam's protests, a powder keg was lit as years of animosity began to surface and Vietnamese citizens took to the streets. 
Along with the deaths, the BBC reports that 15 foreign-owned factories have been set on fire and that the protests show no signs of waning.