The World's Most Famous Soccer Player Has a Message for Brazil Ahead of the World Cup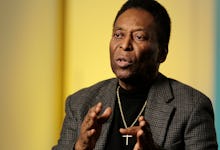 The news: The World Cup is just three weeks away, and Brazil has been accused of human rights abuse, people have been protesting in the streets for months and even the International Olympic Committee has publicly questioned the country's preparedness for the biggest soccer event in the world.
Now even the country's biggest sports icon is speaking out — and he is not happy.
On Monday, soccer legend Edson Arantes do Nascimento, better known as Pelé, shared his dissatisfaction with how much money is being spent on the World Cup. "It's clear that politically speaking, the money spent to build the stadiums was a lot, and in some cases was more than it should have been," the 72-year-old said at a talk in Mexico City. "Some of this money could have been invested in schools, in hospitals. ... Brazil needs it. That's clear."
Pelé, who helped Brazil win three of its five World Cups ('58, '62 and '70), also argued that Brazil's $11 billion investment was probably not going to be recouped — especially since tourists are being scared off by the tidal wave of bad news. "We already know that 25% of foreigners who are going to Brazil are worried about this movement (protests), and I think they have even canceled (their trip). So this is a great loss for the country," he said.
And he has a point: Pelé's fiscal concerns echo the sentiment of the protesters. Tens of thousands of Brazilians have taken to the streets to protest the investment in new infrastructure, saying it's not sustainable and won't actually improve the average Brazilian's life. 
"When the government told us we would host the World Cup, we hoped there would be improvements for us. But they aren't putting on a Cup for the people, they're putting on a Cup for the gringos," said protest organizer Maria das Dores Cirqueira.
And there are significant worries that all this infrastructure might not even be ready to host the tournament. Two stadiums just barely finished construction last week, and a construction worker suffered the eighth accidental death earlier this month. Resources have been stretched between this year's World Cup and the 2016 Summer Olympics, stoking rumors that the latter might be relocated from Rio to London.
In its effort to clean out the city for tourists and World Cup spectators, Brazilian police have also raided favelas and had deadly clashes with the people, which some believe have, on occasion, amounted to human rights abuse. Around 19,000 families near development sites have been forced to relocate with little notice or compensation, while violent shoot-outs between favela gangs and armed troops have led to civilian deaths.
That's not even considering all the violence that's predicted for during the games. Latrocinios, or robberies that murders, have gotten so bad that the São Paulo police plan on handing out pamphlets informing tourists how to properly handle muggings.
While the World Cup will certainly bring much-deserved attention to Brazil's illustrious soccer history, it is also shining a spotlight to all the developmental problems that the country would like to sweep under the rug. At this point, the story is no longer about the event but all the logistical and ethical problems it has caused — and that's a disservice to the Brazilian public, the international sports community and the athletes who trained for years to take part in what is supposed to be a show of global unity and sportsmanship.