Boko Haram Just Kidnapped Another Group of Women in Nigeria — And Nobody Cares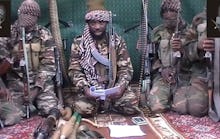 Boko Haram's cycle of kidnapping and terror continues in Nigeria with the abduction of 20 more women, adding to the 276 schoolgirls still held in captivity since April.
Boko Haram stormed the Garkin Fulani nomadic settlement on Thursday afternoon, terrorising the population at gunpoint. The kidnapped women were forced into the group's vehicles, and taken to a remote area of the Borno state. Their status remains unknown. A member of a group resisting Boko Haram reports that three men trying to stop the kidnapping were also captured.
The previous kidnapping of 300 schoolgirls occurred in the nearby town of Chibok. Most of the girls are still missing, despite the international outrage with a U.S. military task force sent to search for the girls, and an online campaign that drew support from big names like First Lady Michelle Obama and Academy Award winning actress Anne Hathaway.
But even though all eyes were on Nigeria just weeks ago over the kidnapping, it seems like the international outrage has died down, perhaps confirming the cynical view that hashtag activism is shallow and reductive. Below, Google Trends shows the drop-off in interest in key search terms like "Nigerian girls" and "#BringBackOurGirls." While concern over Boko Haram's ongoing operations peaked in mid-May after the kidnapped schoolgirls made international headlines, interest in Nigeria's terror problem has declined back to where it was at the beginning of April. 
While the outrage helped paint the picture as a story about a war on girls' education, the reality is far more complicated than that. Women are certainly not the group's prime target, but Western media tends to focus on female victimhood more adamantly. The controversial video of Boko Haram's leader, Abubakar Shekau, saying he will sell and marry off schoolgirls for Allah has become the imagery and radical "jihadist" narrative associated with the group.
Casual observor's of Nigeria's tumultuous security situation understand that Boko Haram aims to establish an Islamic state in Nigeria through a violent unrelenting rampage against civilians and the Nigerian state. But it's worth noting Boko Haram targets all civilians: women, men, and even other Muslims. In the past, the conflict has been painted as a religious war between Christians in the South and Boko Haram's Muslim occupied North. This simplifies the issue, when Boko Haram has assassinated a Muslim cleric for speaking out against them and killed other Muslim civilians.
And the despite the hashtags and calls for international action, the violence is unlikely to dissipate. This week, Boko Haram massacred at least 200 civilians in three northeast Nigeria communities, including Maiduguri, the Borno state capital. An estimated 2000 have been killed this year from Boko Haram related violence. Recently, in the Gwoza district of Borno, the Guardian reports that, "Heavily armed gunmen were said to have killed babies being carried on their mothers' backs and shot down villagers as they tried to flee."
What's becoming more apparent is Boko Haram's brutal attacks against innocent civilians are increasing, and the Nigeria's government has failed to stop the violence and secure the state. The worst part: Nobody outside of Nigeria really seems to care.