A Porn Star Perfectly Describes What's Wrong With America's College System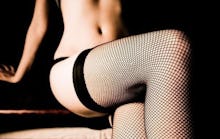 The Duke University student who gained fame for her unorthodox way of paying for college — acting in porn — has an explanation of college tuition that's better than anything your alma mater's financial aid officers could have come up with.
In TIME, Miriam Weeks (also known by her performance name Belle Knox) writes about how she lost her $13,000 financial aid package due to her income, even though she's legally financially independent from her parents. Why can't colleges make tuition more affordable? Weeks gives the simple answer: They don't have to.
"Demand for education, kind of like demand for porn, is pretty inelastic. Kids like me have been told our whole lives that higher education is the only way to be successful in America ... Colleges today have zero incentive to lower tuition or make college more affordable. Either way, demand is high and the money will keep flowing. So why bother with thrift?"
Miriam Weeks on Piers Morgan Live. Image Credit: CNN
Where the money goes: Weeks' evidence is clear to anyone who has gone to college recently (or even just toured a campus). Athletic facilities get upgraded, dorms get redone, administrators get raises — and tuition goes up.
That money even has trouble finding its way to students' academics. While spending by American colleges tripled between 1975 and 2005, faculty-to-student ratios stayed pretty much the same, according to a Washington Monthly investigation. Over that time period, though, colleges made a run on bureaucrats — the administrator-to-student ratio dropped from 1 to 84 to 1 to 68, and the professional staff-to-student ratio dropped from 1 to 50 to 1 to 21.
Who ends up getting the big bucks? Take a look at Deadspin's breakdown of the highest paid public employee in each state and see if you can find a pattern:
Image Credit: Deadspin
I am become debt: The result of all this rising tuition is more student loans to pay off in the years following graduation. Former students currently hold more than $1 trillion in debt, and 57% of Americans ages 18-24 called student loan debt a major issue.
The government has done some work to address the issue. Congress lowered the standard undergraduate loan rate last year, and President Barack Obama has embraced a proposal from Sen. Elizabeth Warren (D-Mass.) to retroactively apply that rate to those who borrowed before the law was passed (though Republicans killed that bill).
While better loans are nice, such legislation doesn't address college costs at their root. As high schoolers are pushed to go to college, their tuition often ends up lining administrators' pockets.
"Sky-high tuition bills result from a culture, from our president on down, telling every kid to go to college, regardless of their future plans or ability to graduate," Weeks writes. "Everyone is focused on my decision to perform in porn to pay my tuition. Let's start paying attention to what got me here."