One Statistic Shows That NFL's Female Fans Have More Power Than They Know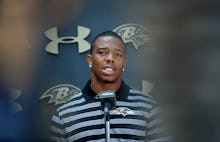 Football hasn't been just for boys in quite some time.
In recent years, the NFL has taken a number of steps to attract female fans. Since 2009, fans have been treated to the sight of their favorite teams, including those home to the aforementioned abusers, decked out in pink gear as a means to promote breast cancer awareness. During its first four years, A Crucial Catch, the charity created by the NFL to fund breast cancer research, only raised a combined $4.5 million. Compared to the annual league-wide revenue of $8 billion, its charitable contribution is somewhat laughable. Additionally, female fans have the option of buying pink versions of their favorite players' jerseys. 
To top it off, a recent study discovered that 45% of NFL fans are women. 
And yet, violence against women runs rampant through the NFL, with players often being given slaps on the wrist for their infractions.
In February, footage surfaced of All-Pro Baltimore Ravens running back Ray Rice dragging his then-fiancée, Janay Palmer, out of an elevator at an Atlantic City, N.J., casino. In July, NFL commissioner Roger Goodell suspended Rice for the first two games of this season for violating the league's personal conduct policy. What followed was an outcry over the severity — or lack thereof — of Rice's punishment, made worse by the NFL's decision to suspend Cleveland Browns wide receiver Josh Gordon for the entire season after failing a drug test that indicated he had recently smoked marijuana. The disparity in punishment sparked outrage, and led many to conclude that the NFL views the use of recreational drugs as being eight times as bad as domestic violence.
On Monday, TMZ released additional video documenting what happened inside the elevator, and it is absolutely horrific. Rice punches Palmer, brutally manhandling her before dragging her out of the elevator. Monday afternoon, the Ravens announced that they had terminated Rice's contract, though the damage may have already been done.
In 2012, Kansas City Chiefs linebacker Jovan Belcher murdered his girlfriend before committing suicide. In 2008, former Cincinnati Bengals linebacker Ahmad Brooks punched a woman in the face. He was released by the team, but has since found himself playing a prominent role in the San Francisco 49ers' defense.
In June 2008, Steelers quarterback Ben Roethlisberger allegedly sexually assaulted a Lake Tahoe, Nev., hotel employee, and in 2010, he allegedly sexually assaulted a 20-year-old college student in a women's restroom. Soon after, Roethlisberger was suspended for six games, though the league later reduced it to just four.
In 2008, then-Broncos wide receiver Brandon Marshall was charged with two counts of battery after allegedly hitting his then-girlfriend Rasheedah Watley. Coupled with a drunk driving charge, Marshall was suspended three games by the NFL, though he appealed the decision, getting the suspension reduced to a single game. In March 2012, Marshall, now a member of the Chicago Bears, was accused of punching a woman outside of a New York City nightclub.
While the NFL has made recent adjustments to how they plan to handle instances of domestic violence in the future, it's hard to see the league as anything more than an enabler of violent crime against women.
As a bloc, women have the power to change the NFL. Women spend hard-earned money on tickets, jerseys and other league revenue-generating items. Annually, this amounts to billions of dollars. The NFL is a business, plain and simple. So long as fans buy Roethlisberger jerseys, attend 49ers games and support whatever team Rice inevitably winds up with, the league has no incentive to truly change, and the existing culture of misogyny and violence will remain in place.
Releasing Rice is nothing more than a business move on the part of the Ravens. The Ravens should be ashamed for attempting to blame Rice's victim, as should the NFL for their hypocritical conduct policies.
If women want to change the NFL and its culture, it's time to take a stand against the status quo. Boycott any team willing to employ players guilty of assault. Boycott the league until domestic violence incidents are treated with more severity than a late hit on a quarterback.
Women have the power. Now they should use it.