Which woman VP will Joe Biden pick to save his campaign?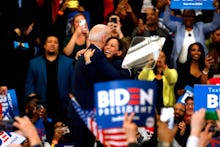 JEFF KOWALSKY/AFP/Getty Images
As summer lingers on, the Joe Biden veepstakes are reaching a fever pitch. Multiple names are surfacing in media speculation, and there are few certainties about who Biden will pick for vice president, other than the fact that he will be almost certainly selecting a woman. As the primary season dragged on, the top tier of candidates came to include a series of women of varying backgrounds and ideologies, including Stacey Abrams, California Sen. Kamala Harris, and Minnesota Sen. Amy Klobuchar. In recent weeks, however, some new names have vaulted to the top of the list, like Susan Rice and California Rep. Karen Bass.
Biden made his official pledge to pick a female running mate in May, an announcement that was met with skepticism by some who felt it was more pandering than inspiring. And given his campaign is marred by a sexual assault allegation from Biden's former Senate aide Tara Reade, it's worth wondering whether the candidate now hopes a woman joining him at the top of the ticket could help shore up his standing with young female voters.
Biden is being pushed in multiple directions by different interest groups — many progressives are urging him to choose Warren, with an eye towards bridging the gap between his moderate base and aggrieved Bernie Sanders supporters, which polling suggests that choosing Warren would do. Meanwhile, prominent Black leaders like Al Sharpton have been urging Biden to choose a Black woman.
"In the middle of this pandemic, you have to choose someone that people, and particularly Black people, believe can govern from day one."
Biden "will get the overwhelming majority of the Black vote, the question is turnout," Sharpton told The New York Times. "Now I've told him my preference is for a Black woman, but you've got to also choose the right Black woman. In the middle of this pandemic, you have to choose someone that people, and particularly Black people, believe can govern from day one."
Klobuchar withdrew from consideration in June, shortly after it was leaked that Biden's team had asked her to undergo the rigorous vetting process that all potential vice presidential candidates must endure. Some Black activists had urged Biden not to pick Klobuchar given her past career as a Minnesota prosecutor, and Black voters were the base of Biden's support throughout the primary. In withdrawing amid national uprisings over systemic racism, Klobuchar said that "this is a moment to put a woman of color" on the presidential ticket.
Indeed, some argue that Biden would be wise to choose an elected official from a majority-Black city, like Atlanta Mayor Keisha Lance Bottoms. Bottoms, a moderate Democrat, made waves earlier this summer when she instructed protesters not to destroy property, which many felt was a misguided reaction to the pain and anger felt by Black folks. But Bottoms endorsed Biden early on in the primary season and has been a staunch advocate of his in Georgia, which Democrats are optimistic might actually turn blue this November. Bringing her onto the ticket might help Biden make a case in Republican-leaning conservative states.
There's also talk of selecting Florida Rep. Val Demings, another Black woman from the South. She's aligned with Biden on issues of policing, but that could alienate younger Sanders-Warren voters. Demings was in fact a member of the Orlando Police Department for three decades, and was the department's chief from 2007 to 2011.
Though this background in law enforcement is what cleared the way for Demings to serve as an impeachment manager earlier this year, prosecuting the case before the Senate against President Trump, at a time when there are calls nationally to defund the police it might be difficult for progressive voters to get behind Demings. Consider how progressive voters knocked Harris for her record as California's attorney general — the state's "top cop," in her words — and argued her record as a prosecutor would hinder any real, progressive change.
Even with initial concerns regarding Harris's record, her leadership on issues of police accountability, including lobbying for the Justice in Policing Act, has impressed some Democratic leaders, renewing the whispers that she might be the right woman to join Biden on the ticket.
Of the senators in play, Harris also has the safest seat, a unique consideration for possible vice presidential picks who currently hold national office. California is broadly left-wing and has no prominent, popular Republican officials who could mount an insurgent campaign. As a Black woman, Harris would also satisfy Black leaders like Sharpton, and she has made a name for herself with sharp, prosecutorial attacks on Trump-world figures in the Senate.
However, her weak performance in the Democratic primary has caused concerns — despite a few strong early debate performances, she failed to catch fire, even among Black voters. At times she came off slightly brittle, and failed to carve out a coherent and compelling political lane, ultimately ending up with relatively confused positions on issues like Medicare-for-All. Furthermore, she would almost certainly not help bridge the gap between Biden and Sanders supporters, who often criticized Harris for her harsh criminal justice positions when she was the attorney general of California.
The intra-party solidarity issue is one that helped raise Warren's chances this spring. Warren has a strong track record as a progressive champion, and choosing her could help allay fears among many Democrats that Biden could drift too far to the center in his bid to win independents. Biden also has a long history of being cozy with the financial industry, and her bona fides as a Wall Street critic are rock-solid.
But choosing Warren does not come without risks. For one thing, she could alienate conservative Trump skeptics who might be considering holding their nose and voting for Biden. Also, despite representing a deep blue state in the Senate, some worry that her seat might not be as safely Democratic as it seems — Massachusetts is governed by an immensely popular centrist Republican governor in Charlie Baker. If he chose to run for her seat, many think he'd have a strong shot. Losing even a single Senate seat could hamstring Biden's ability to pass any legislation in what's sure to be an upper chamber with a razor-thin majority.
Still, Biden and the senator have had some public displays of affection, and young voters also appear to favor her. But as a white candidate from a state in the northeast, it's worth asking whether Warren may not fit the optics of the moment.
Another popular suggestion for many pundits is Michigan Gov. Gretchen Whitmer. Whitmer is popular in the critical swing state, and she has earned a national platform with her sparring with Trump over coronavirus funding. Still, it's not clear that home-state advantage is all it's cracked up to be when it comes to VP selection.
"What I found is that presidential candidates used to enjoy a sizable electoral bonus in the state that they were from, but that has declined over time," said Dan Hopkins, a professor of political science at the University of Pennsylvania, in an email to Mic this spring. "Vice presidential candidates never generated quite that much bonus, but whatever bonus they did generate is now indistinguishable from zero and maybe, on average, about half a percentage point."
Furthermore, despite her current popularity, Whitmer is a relative political newcomer — she's only been governor for two years and has far less experience than the other candidates, though Demings and Bottoms also have similar (perceived) weaknesses. The same goes for another buzzy possibility: Abrams.
Abrams became a media darling when she challenged Brian Kemp in the Georgia governor's race in 2018. She lost by a small margin in the state, which Democrats hope is tinging more purple these days after decades as solid-red. She is a compelling speaker, a Black woman, and choosing her would not risk a Senate seat. She has been essentially campaigning for the ticket, too, giving interviews about her strength as a potential running mate. "As a young Black girl growing up in Mississippi, I learned that if I didn't speak up for myself, no one else would, so ... my mission is to say out loud if I'm asked the question, 'Yes, I would be willing to serve,'" Abrams said on NBC's Meet the Press when the host asked if she would be a good choice for Biden.
Abrams has never held significant office, though, and is at this point more of a known quantity among Beltway pundits than among regular people. Asked by NBC about her lack of experience, she pointed to a voting rights group, Fair Fight, which she founded after her electoral loss. "I believe in doing the work," she said. "I've been doing it since the day I did not become governor and I will continue to do so. And I do so at a national level."
Now, as the Democratic National Convention nears, another name has popped up: Rice, a former White House national security adviser and ambassador to the United Nations under President Barack Obama. Rice confirmed that the Biden campaign is considering her for the role of second in command — but even though she's been a staple in Washington politics for many decades, she has never held elected office and is thus less of a household name.
That could work in her favor, though. Where other contenders like Harris and Bottoms have to reckon with their highly publicized — and criticized — records on protests, Medicare-for-All, or other progressive values, Rice benefits from not having been as exposed in the public eye. Rice, like other VP contenders, is a woman of color and is only 55 years old, satisfying both Biden's promise to choose a non-white running mate and his desire to offset his identity at the top of the ticket with someone younger. Biden has also repeatedly stated that he wants to have a rapport with his number two, like he had with Obama — and which he would likely get with Rice, given their extensive work together in the Obama administration.
Another up-and-comer in the veepstakes is Bass, who has a reputation as a master legislator built over 10 years representing California in Congress. Bass is also the chair of the Congressional Black Caucus, has rallied considerable support among party delegates, and could tick the boxes Biden needs as a progressive Black woman with an activist sheen who is 10 years younger than he is.
Ultimately, the choice will come down to a complex triangulation of risk, reward, and the wranglings of multiple interest groups. However, whether Biden chooses a known quantity like Warren or a newcomer like Abrams, one giant unknown hangs over the choice — his running mate will almost certainly be asked to answer for the sexual assault allegation from Reade. Biden himself hasn't addressed Reade's allegation, only denying the facts through spokespeople. But as Rebecca Traister wrote at The Cut on Monday, "Whichever woman gets the nod to be his running mate will wind up drinking from a poisoned chalice."
Whether any of these politicians have the appetite for the task is something that they will have to decide for themselves.