A feminist porn boss on the rise of OnlyFans and what qualifies as "good porn"
Erika Lust has been in the industry for nearly 20 years. She has hope it will continue to get better.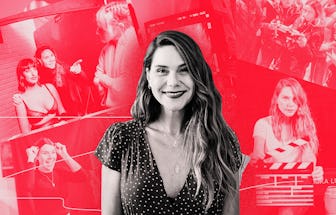 Lais Borges/Mic; Lust Cinema
Life
By
Sara Youngblood Gregory
Sex has always been a battleground. From extremist woes over queer and trans identities to the ongoing attack on reproductive rights, the lack of protection for and slew of harmful laws targeting sex workers, and the struggle to even teach young people how their bodies work, it's clear that pleasure has long been political. That's especially true now, as the overturn of Roe v. Wade, the dawn of FOSTA-SESTA (the 2018 law touted as an anti-sex trafficking measure while, in effect, actually targeting consenting adult sex workers), and the barrage of anti-LGBTQ+ legislation rush to invade every inch of progress that's been made in the last few decades.
But people still have sex — and with porn sites reportedly pulling in 450 million unique visitors each month, they definitely still watch it, too.
For Erika Lust, that's not a bad thing. As a filmmaker and founder of multiple feminist porn production companies, including XConfessions, Lust Cinema, and Else Cinema, Lust has been blazing a trail for women-centered, queer-affirming, and ethically made porn for nearly two decades. It all started in 2004 with her short film The Good Girl, which she had the opportunity to make on the side while working in advertising in Barcelona. She shot it as a conscious departure from the male gaze and placed her woman character's pleasure center stage.
The film got over 2 million downloads in under two months; it was a lightbulb moment for Lust, as she realized other people — millions of them — were also looking for alternatives to the patriarchal porn saturating the internet.
Last year, Lust expanded beyond solely making porn to using it as an education launch pad for teens and young adults. She and her husband, Pablo Dobner, founded The Porn Conversation, a nonprofit educational tool for parents and adults to talk to kids about sexual health and porn literacy in a stigma-free way.
Now, after celebrating multiple wins at the 2023 XBIZ Awards (often called the "Golden Globes of Porn") including Feature Movie of the Year, Best Screenplay, and Erotic Site of the Year, Lust spoke with Mic about her career, what she thinks of OnlyFans, and how to make really good porn.
This interview has been edited and condensed for clarity.
What makes porn "good"? How does feminist porn approach sex — and the performance of sex — differently?
I'd say "good porn" is whatever porn that's made with care of everybody involved in the process and which proudly promotes gender equality, intimacy, diversity, unambiguous consent, safety, pleasure, and sexual freedom and exploration.
As for feminist porn, it originally began as a way to reclaim a genre that has traditionally been seen exclusively as the purview of men, to bring a different perspective on how we represent sex, and celebrate the pleasure and sexual empowerment of women, LGBTQ+, and BIPOC people.
This doesn't mean that feminist porn is suddenly "porn for women." In feminist porn, people of all genders are in charge of what they do sexually; they own their pleasure and are treated as equal sexual collaborators, not as objects or sex machines. Porn made with feminist values is essentially about showing an authentic and equal representation of human sexuality with no gender stereotyping.
What does working on the business side of feminist porn look like?
Like any other business, some parts are enjoyable — like being on set, doing events, and working hand-in-hand with my fantastic team — and other parts regarding administration and office work are a bit more boring. Many people think I'm always on set, and the reality is that there's so much that comes with operating your own business.
Our office and sets are mostly made up of women and queer people, which makes a massive difference in how films are made and distributed compared to most free online porn produced by a predominantly male-dominated industry. Nevertheless, there are more women in our industry than ever before, and the recent XBIZ Awards were proof of that. I was proud to see many more women taking leadership roles in the industry.
How has porn changed since you started in the industry — particularly with FOSTA-SESTA, OnlyFans, and the rise of indie creators? What have you done to stay successful?
I can happily see that there's a general, rising effort within the entire industry (indie and mainstream) to do things better, with more transparency and better working conditions for anyone involved. I like to think that the ethical practices we implemented and the values we pursue inspired the rest of the industry to follow suit. But it's also necessary to stress that any changes for the better are ultimately due to sex performers' demands to work in a healthier industry.
Porn and sex are nowadays way less of a taboo topic for people of all genders compared to only 10 years ago. Plenty of online resources and communities encourage more positive conversations around sex and porn consumption, and help people to be more knowledgeable and feel more confident to talk openly about their sexuality. It's not that people are consuming more porn nowadays; people are now more comfortable talking about it and their feelings toward it.
"While people consume porn abundantly, they're still not educated to treat the people who make it with humanity."
However, the stigma still attached to people working in the industry (especially women) is real, and we still have a long way to go. The porn industry is still heavily mistreated by society, media outlets, and governments. Bills like FOSTA-SESTA boil down to anti-sex-work politics, and sex workers are the ones that have been most affected by the laws, so I think the conversation should be focused on their work. The impact on my work has been small compared to that of sex workers. While people consume porn abundantly, they're still not educated to treat the people who make it with humanity and respect or to understand that sex work is work that, as any other work, deserves to be paid.
Platforms like OnlyFans allow adult creators autonomy over their bodies, boundaries, and conditions of their content's production and distribution. Sex workers can create their own brands; they can create and sell their content in the safety of their homes, with people they want to work with. Thanks to these platforms, many performers (especially women) are less dependent on porn studios — therefore, they feel more empowered to call out predatory behaviors from companies, directors, or agents. In general, these platforms normalized the consumption of paid, ethically-made porn. People often ask me if subscription services like OnlyFans are competitors to my work, but I wouldn't say that — it's just another way of consuming porn.
Porn is often people's main source of sex education, for better or worse. You created The Porn Conversation as a response to this, focusing on porn literacy. What does that mean?
Pornography shouldn't be a sex educator for people of any age. It is not a "how-to" guide to sex, nor should it be taken as such. Porn has always meant entertainment, belonging to fantasy and not reality.
One thing we all have to reflect upon is how porn is not inherently harmful or charged with violence and misogyny. Our society is. We live in a society that normalizes violent masculinity, discrimination toward women and gender non-conforming people, racism, ableism, fatphobia, and so on. Porn is a direct mirror of the world we live in, so we should stop blaming everything on porn and start addressing the real issues. We as humans are sexual beings, and at some point in our lives, we will reach out to sexual content, so shouldn't we do it in an informed, safe, and socially responsible way?
The Porn Conversation advocates for a more educated and alert generation who are prepared and ready to make better choices about their sexual health, driven by knowledge and not by fear or shame. When it comes to the influence of free online porn on young (and not-so-young) people's perceptions and expectations of sex and relationships, I prefer to embrace the neutral perspective of porn literacy. Rather than promoting a "pro-porn" or "anti-porn" attitude, I feel it's more urgent for adults to encourage themselves and their children to think critically about the porn they watch. No matter their age, we need to confront porn. As a mother of two, I know it can be tough to understand where to start when discussing sex with our children.
"The future of porn depends on the people who watch it."
You started making porn in 2004. Where are you now in your life and career? Where will you go next?
I think of my first steps into this industry very fondly, since that's where it all began. Feminist porn wasn't as explored back then — except for some incredible female porn revolutionaries such as Annie Sprinkle or Candida Royalle. To now see an increase in companies advocating for these values gives me the reassurance that we must be doing something right.
People are asking for this kind of content: We live in a world where many people are becoming more conscious about their habits and decisions, be it around food, clothing, or digital use. The future of pornography depends greatly on the consumers — on whether people become aware of how complex and varied the porn industry is and are more conscious of the alternatives within the industry and their porn consumption.
As in many other fields, consumers are ultimately a part of the industry; the future of porn depends on the people who watch it. When you pay for your porn or support your favorite adult creators on OnlyFans, you're giving value to that work. You are supporting the people who do it, and you are sending the message that you want to watch porn that is made safely, with quality, and without fetishizing diversity.