62 cheap products that make a big impact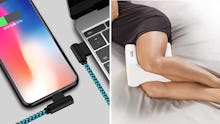 Amazon
Making upgrades to your life can cost a lot of money. And while luxe items like premium juicers and custom-framed artwork are arguably worth their high price tags, it isn't absolutely necessary to spend a lot of dough to simply streamline and improve your everyday life. Need proof? I've rounded up a list of cheap products that make a big impact.
One stand-out on this list is a set of bamboo pillowcases. Now you may be familiar with the superior softness that bamboo offers, but it's got another thing going for it too — it's naturally temperature-regulating, so it'll keep you properly chilled on warm nights (and you won't even have to flip the pillow over to get to the cool side). And another favorite: solar-powered outdoor path lights that instantly add atmosphere to your yard or front walk. They won't add one red cent to your electricity bill, and they require zero installation — just stick the spikes into the ground, and they'll offer dusk-to-dawn illumination.
One more reason to go in for these genius but affordable products? They're all on Amazon, which means you'll get free two-day shipping if you're a Prime member. In other words, you'll have a little money left in your wallet for just a few more life upgrades.