The Arts & Entertainment Must-Reads Of the Week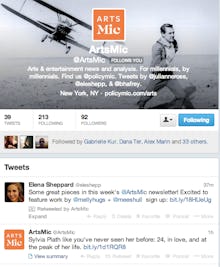 Congratulations on the successful completion of another week! Pat yourself on the back, watch a movie, read a book, enjoy your weekend. There's a new star in the PolicyMic's Arts & Entertainment universe today. Just this week we launched our Twitter page. Follow us here @ArtsMic and help us break into the triple digits (we're close). 
Shout Outs of the Week:
Shout out to on call writer Kathryn Nave who had the most read story of the week (18,594 views) with her piece Eminem's Homophobic 'Rap God' is a 21st Century Embarrassment.
Additional shout outs to Michelle Juergen, Ali Walton and Chelsea Hawkins who all pieces picked up by Salon. Read their original pieces here:
Michelle: Why 'Blue is the Warmest Color' Fails At Showing Lesbian Love
Video Of the Week:
Wes Anderson has a new 7-minute short film and it's available for free online. Check out Castello Cavalcanti here.
Looking for Writers:
We are looking for writers! We are recruiting general writers for the section, as well as weekly on-call writers to cover trending topics. E-mail elena@policymic.com for more information.
What Are You Up To?
Want the PolicyMic community to know about the show you're in, the article you published, or the book you just wrote? E-mail me any achievements or announcements that you'd like shared out in the newsletter. I'll be highlighting our pundits successes both on and offline, so send in your triumphs! 
Must-Reads of the Week:
When Should Old Rappers Stop Rapping? (Tom Barnes, @HotChiliGumbo) – Some of the year's biggest hip-hop releases have been from rappers over 40. When are they too old for the rap game? 
How Keanu Reeves' New Martial Arts Movie Explains the Jobs Crisis In America (Zak Cheney-Rice, @zakcheneyrice) – Keanu Reeves' new film is, bizarrely, a t'ai chi film about the millennial job crisis.
10 Life-Changing Books Every 20-Something Feminist Needs to Read (Michelle Juergen, @meeshull) – From religion and virginity to gender and pornography, the issues explored in these works raise essential questions for the millennial feminist. 
How Disney Princesses Went From Passive Damsels to Active Heroes (Melissa Hugel, @mellyhugs) – With the upcoming release of Disney's 'Frozen', is the damsel-in-distress finally a thing of the past?
These 6 Celebrities Reading Poems Aloud Will Make You Fall in Love with Poetry (Kinsey Lane Sullivan, @misskinseylane) – Yet another reason to love E. E. Cummings: Tom Hiddleston.
Meet the Filmmaker Convincing America That Virginity Doesn't Exist (Julianne Ross, @JulianneRoss) – 'How To Lose Your Virginity' director Therese Shechter talked with PolicyMic about virginity as a social construct, porn, and the dangers of putting purity on a pedestal.
5 LGBTQ Rappers Who'd Gladly Rap Battle Eminem (Amirah Mercer, @StyleRealist) – Eminem's controversial "Rap God" and use of the other "F-word" marginalizes a community that is now, slowly, taking over hip hop.
For Child Actors in Adult Shows, Make-Believe Can Be Too Real (David Levesley, @abohemianisyou) – New York's theaters are giving children the chance to play serious and controversial roles, but this practice isn't without its moral problems.
A Portrait Of the Quintessential Millennial Poet, 24 and in Love (Gracie Jin, @YourGraceness) – In 1956 Sylvia Plath was 24 and had just met the love of her life. A new book of her drawings beautifully captures the young poet's world as she falls in love.
10 TV Boyfriends Who Would Be Terrible in Real Life (Carlie Lindower, @carlie_barley) – Ross Geller? No thanks.
I'd love to hear your feedback! Email me at Elena@policymic.com
Have a happy weekend!