President Obama Has the Perfect Rebuttal to All the People Who Want to Impeach Him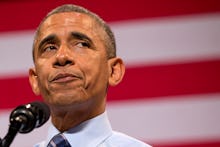 The news: "I'm the guy doing my job. You must be the other guy."
It may not have been the exact quote from The Departed, but for President Barack Obama, this line perfectly encapsulated his ongoing standoff with House Republicans. Like a scene straight out of an SNL parody, the president took the stage at an Austin rally on Thursday and openly mocked GOP threats to sue and impeach him.
"'Sue him! Impeach him!' Really? For what? You're going to sue me for doing my job?" Obama asked with sarcastic bewilderment as the crowd cheered. "I mean think about that — you're going to use taxpayer money to sue me for doing my job while you don't do your job? Huh."
It's been an unhappy union. Obama's give-no-damn speech follows the Republicans' decision to officially draft a suit, accusing the president of abusing his authority in implementing his health care law. "What we're talking about here are places where the president is basically rewriting law to make it fit his own needs," House Speaker John Boehner (R-Ohio) said in an announcement.
The White House has called the suit a "political stunt," but the president may end up getting a better deal than he thought: Boehner's suit is expected to quell calls for impeachment from the more outspoken wing of his party. 
Obama may be on an executive kick, but it's not abnormal. During his State of the Union address this year, Obama promised a "year of action," with or without congressional backing, and so far, he has been delivering. After unilaterally easing student loans, capping carbon emissions, strengthening federal background checks for gun purchases and increasing minimum wage for federal workers to $10.10 an hour, the president announced recently that he will also enact new immigration policies.
For Boehner and his ilk, this has all proved Obama's abuse of executive privilege. But as Obama himself has noted, he has been issuing executive orders at a far lower rate than any president in the past century. As of last month, Obama has issued 182 such orders and will likely issue less than George W. Bush (291), Bill Clinton (364) and Ronald Reagan (381).
Image Credit: Brookings Institute
"Republicans didn't seem to mind when President Bush took more executive actions than I did," Obama said at the rally. "Maybe it's just me they don't like. I don't know."
Obama really doesn't seem to care anymore. As Obama admitted on Thursday, "I don't have to run for office again so I can just let her rip." Going into midterms for his second term, the president really hasn't been holding back any punches when it comes to blaming Republicans for Congress' historically unproductive year.
"It's lonely just me doing stuff. I'd love if the Republicans did stuff too," Obama added, tongue firmly in cheek. With just over two years left to go, he seems ready to hang up his presidential hat and become the sasser-in-chief.