5 reasons to feel hopeful about the climate change fight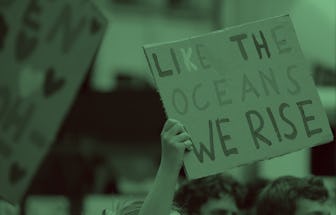 ARMANDO BABANI/AFP/Getty Images
In this day and age, if you hear the word "climate," the word "disaster" — or perhaps "crisis" — is likely to follow. From terrible wildfires, to microplastic pollution, to Earth clocking in at the hottest it's been in 12,000 years, there's no escaping news about how screwed our world is. But it's important to remember that being momentarily screwed doesn't mean all is lost.
When discussing climate change scenarios, it's impossible to completely avoid frightening data or difficult conversations. The unfortunate reality is that, yes, the environment is in dire straits right now. Yes, there's serious cause for concern and, more importantly, drastic change. The fear of what will come if that doesn't happen shouldn't be ignored — but it's also not helpful when that fear becomes all-consuming. In fact, feelings of hopelessness about climate change can actually keep us from taking necessary action.
So, say it with me: The world isn't doomed. People, in general, are not terrible. We are not destined to completely destroy the planet, and we are capable of doing better. But if you've been feeling a little hopeless about climate change and struggling to see the (restored) forest for the (charred) trees, here are five reasons to be optimistic about the climate fight ahead of us.