This Cop Just Showed Everyone How to *Really* 'Stop and Frisk'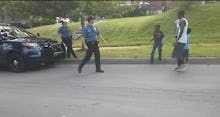 There was a time when "officer friendly" was more than just an ironic moniker, a time when the general public had faith in the abilities of their police forces to faithfully and fairly administer justice.
As many have learned during the past two weeks, the police aren't necessarily anyone's best friends, especially if you're a young black person like 18-year-old Michael Brown, a suburban St. Louis youth shot and killed by police. But in a climate where many Americans don't feel they can trust any poice officer, one Kansas City cop took a moment out of his day to show the children on his beat that he doesn't have to be their enemy.
In a video released by the Kansas City police, one observer caught an officer stopping a group of black youths along an otherwise empty residential street, but not for the stereotypical reasons anyone might otherwise assume.
And he did it in the name of competition: an old-fashioned dance-off.
The moment is fairly small in the grand scheme of things, but its impact can't be understated in the current political climate. For many across the country, especially black people, officers have become known as daily harassers, abusers and even murderers, armed with 9mm firearms and the dual get-out-of-jail-free cards of a badge and institutional power. 
With a growing number of black youths being killed by police officers in recent weeks, including Eric Garner in New York and Ezell Ford in Los Angeles, the widespread outrage prompted The Root's Albert L. Brooks to question whether officers actually care about blacks: "From where I sit, right now, in this moment in time, in the wake of tragic incidents that have transpired over the last few weeks, there are no good cops in this country."
Brooks went on to challenge "good cops, if you're out there" to show themselves. And Kansas City policeman Officer Krebs wants to be known as one such cop.
The spontaneous community outreach moment, according to local TV affiliate KSHB, was courtesy of Krebs and Officer Smith, both of whom offered the group some Jolly Ranchers, but only if they showed their best dance moves. It was an offer the kids clearly couldn't refuse. 
Taking Krebs on his word, the group of youngsters turned the empty street into a dance floor, flipping through cartwheels and the classic robot moves to match Krebs' affable, yet failed attempts at breakdancing and channeling disco fever.
To probably no one's surprise, Krebs lost the dance battle, which he acknowledged in an interview. But the officer feels that he won in a way he wouldn't have otherwise expected.
"When I joined the police force I told them I wanted to build rapport with the community because I feel like if we build rapport with them then they are more likely to call us when they need us," Krebs told KSHB.
Image Credit: KansasCityPolice via YouTube
It's an otherwise endearing moment during a week when the news has showed the police force and the overall justice system to be an otherwise unwelcoming and discriminatory place, especially for black and brown young people. Rather than seeing the police as community partners, many of them are raised to understand that the police will not be their friends, let alone their dance-off buddies.
That's why organizations like the Black Youth Project (BYP) have called for wider accountability and use community-source methods of raising awareness and encouraging action on key issues. BYP recently announced the curation of a video project called Criminalized Lives, which collects the narratives and testimonials of young black people who have been victimized by the police.
If only many more police officers could be like Krebs, maybe we'd have a better situation for minority youth in our nation.
(h/t The Root)