Finding stuff around your home would be so much easier if you tried any of these clever things
Find things without any fuss.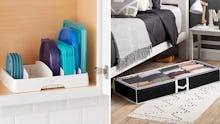 We may receive a portion of sales if you purchase a product through a link in this article.
From papers to clothes to the food in your fridge, stuff has a way of piling up around the home. And sometimes, finding the one thing you need can be a challenge. But, it doesn't have to be that way. The only question is: where do you start? That's where this list comes in handy. I've included tons of easy storage solutions, clever organizers, and streamlining tools that bring immediate results, for every space in your home.
If there's no room around your bathroom sink, there are adhesive shelves to clear some surface area. If your desk drawers are packed with clutter, you'll find a set of small bins that can instantly bring some order. And if your kitchen needs more counter space, there are several genius things that you'll wish you had yesterday. Best of all, these home upgrades come with affordable price tags and glowing user reviews.
So if you want to start finding your stuff without any fuss, check out these 40 clever items before they sell out.