13 Brilliant Music Videos That Blew Us Away This Year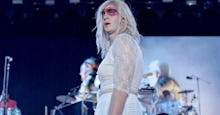 The music video is the most important artistic form in music today. In an age where most traditional formats are failing musicians, music videos are surging in popularity and in artistic quality — according to VideoInk, YouTube viewers consume 2.28 billion hours of music videos a month. So powerful is the music video market that companies are actually splicing advertisements into old music videos to boost ad exposure.
Music videos matter more than ever, and our artists are rising to the challenge. This year's music videos were all about pushing boundaries and shattering stereotypes. From feminist manifestos to experimental, artsy narratives, musicians from every genre were unafraid to make a statement and take risks. 
Here are the 13 music videos that blew us away this year:
1. "Chandelier" by Sia
"Chandelier" was directed by Daniel Askill and the singer herself. Its simplicity — a young, almost manic girl dancing alone in a dingy room — is a chilling contrast to the song's take on destructive alcoholism.
"[The young girl's] insane dance moves and endless child-like energy perfectly embody the reckless abandon with which the storyteller is living her life," Bustle's Alex Kritselis wrote. This video is an exhilarating, surprisingly fascinating visual depiction of addiction — and probably even depression."
It's also a bold reflection of its creator's stance on fame. Sia became one of the most notable pop stars of the year by insistently avoiding the spotlight. Having a child star in the video for her biggest hit was the perfect way to show the world that she doesn't need any public validation.
2. "Chasing Time" by Azealia Banks
Following the release of her highly anticipated album, Broke With Expensive Taste, rapper/singer Banks came out with the video for her single, "Chasing Time." It was just as brilliant as her album.
The song, according to Rolling Stone, "shrewdly balances an eclectic mix of influences from Banks' quick spitting over furious electronic production to the pop-diva hook she lays on top of '90s house synth stabs."
The video accentuates those different styles — balancing avant-garde vignettes of Banks playing with floating orbs with cool, choreographed dancers in silver space suits who look like they were pulled from a Backstreet Boys concert.
It's a trip worth taking if only because it's a glimpse inside the insanely referential and quick-witted mind that led Banks to create one of the boldest albums of the year.
3. "The Writing's On the Wall" by OK Go
Few music videos are as irrepressibly joyful and creative as OK Go's. But after a long string of increasingly inventive music videos, the indie pop-rock outfit finally outdid their infamous treadmill dance. 
Co-directed by lead singer Damien Kulash, the video is one long tracking take filmed on a handheld camera that follows the band through a dizzying array of 28 trompe-l'oeil and other illusions. It also features nine costume changes. And an insanely catchy song.
4. "Shut Up and Dance" by Walk the Moon
"Shut Up and Dance" comes off indie pop darlings' Walk the Moon's second album, Talking is Hard, and is pretty uncomplicated: It's a giant, fun nostalgic dance party. It's a wholly lovable song, and it's hard to imagine a video that suits it better.
As Axs points out, it's a perfect mash-up of Saved by the Bell and a John Hughes film. If the song didn't make the audience want to tap its foot before, the video has such a whimsical visual appeal that it almost demands to be danced to wildly. 
"Shut Up and Dance" is like a modern day "I Want to Hold Your Hand" — but this time the woman is on the offensive. She's not a scantily clad Victoria's Secret model or anything; just a short, red-haired girl who is asserting herself and declaring her affection in the most classic way.
5. "Video Girl" by FKA twigs
FKA twigs' music video for "Video Girl," directed by Kahlil Joseph, follows the singer as she dances around a prisoner receiving a lethal injection. It's a dark and hypnotic video — one that conveys a deeply personal subject for twigs: the fickleness of fame.
She explained the motivation behind the dark song and video in an interview with Pitchfork: "When I got signed, I stopped dancing — I'd given up that part of my life. I would go out, and somebody would be like, 'Oh, I recognize you!' I'd hope it was because they'd heard my music, but they'd say, 'Are you that girl from the Jessie J video?' I'd always say 'no,' and they'd be like, 'You're lying!'"
But the strength of the song and video both only prove that twigs is much, much more than that girl from the video.
6. "Uptown Funk" by Mark Ronson & Bruno Mars
Ronson's collaboration with Mars proves that Mars should've been working with Ronson all along. This music video takes Mars' bubblegum-pop sound and rubs some grit in it, making the funky, soulful dance anthem we needed this year.
The video's appeal is in its simple shots that are vibrant and classy: "Shuffling down the sidewalk," wrote Billboard, "getting shoe shines — the duo looks impossibly cool doing everything in this clip." It's that unimpeachable coolness that made "Uptown Funk" the most feel good video of the year.
7. "We Exist" by Arcade Fire
"We Exist" features British actor Andrew Garfield in drag. It's an eye-catching illustration of the degree to which certain groups are totally ignored — or oppressed and repressed — by our society.
Rolling Stone said "the video's message of self-empowerment and equality is a perfect match for Win Butler's lyrics and the track's throbbing synth-rock arrangement." And it's true — the video culminates with Garfield taking a bold stand against his bullies before coming onstage at Arcade Fire's Coachella show.
Garfield's performance is stunning. As Butler told the Advocate, "Andrew's commitment and passion toward the project was just overwhelming." It shows.
8. "Blank Space" by Taylor Swift
Directed by Joseph Kahn, the pop diva's music video is an over-the-top tale of a woman seeking revenge on her cheating lover — and a brilliant response to the media's overinvestment in Swift's love life.
"It's a clear mockery of what the media thinks of her and the revolving door of men she's dated," said FDRMX. And it's true — this is the best way for her to shake off her haters: a compulsively watchable, totally insane video. To date, it has been viewed 201,505,367 times, far more than a million times for every day it has existed.
9. "Gold" by Chet Faker
In the year of the booty, Faker proved that sometimes the sexiest thing you can film is just a group of sultry roller skaters. The video for his smooth "Gold" is sexy without trying too hard, hopping onto the dance-heavy trend in this year's music videos but featuring professional roller skaters instead of regular dancers.
It may not seem bold at first, but the 26-year-old Australian electronic musician famous for his mellowed-out cover of Blackstreet's "No Diggity," redefines and reimagines sensuality with this video. The year 2014, riding on the coattails of 2013's twerk-heavy output, was a year of pushing exposure to its limits. Faker pulls back in a hypnotic but no less sensual way.
10. "Hideaway" by Kiesza
Kiesza came out of nowhere in 2014. But when she released a single-shot video of her dancing to her single, "Hideaway," she was rocketed instantly to fame.
The video succeeds best in its striking ability to give an electro song an essential human quality. Kiesza had to learn an impressive five dance styles in three days. Not only that, she broke a rib on the day of the shoot. But she kept dancing. That irrepressible quality made this video one of the best of the year.
11. "Anaconda" by Nicki Minaj
No music video was more controversial than "Anaconda." It delivered on the furious hype the single's cover drummed up earlier in the summer. Where else can you find women twerking in a jungle, a cooking show and Drake at the same time?
The video is visually brilliant, reflecting Minaj's no-holds-barred attitude. And in showing her both seducing and rejecting Drake, the video manages to be sexy, sex positive and independence-affirming. It also served as an ingenious prelude to the Pinkprint, undeniably her most honest album yet.
12. "Just One of the Guys" by Jenny Lewis
"Just One of the Guys" comes off singer-songwriter Lewis' first solo album in six years, but it doesn't seem like she's been out of the game at all. In fact, with this video, Lewis comes out guns blazing, wearing a rainbow pantsuit and singing about — or as she told Rolling Stone, "becoming comfortable with yourself and your womanhood with age." 
This video attacks that subject matter head-on and does it clearly, while also adding some humor. Anne Hathaway, Kristen Stewart and Brie Larson struggle to act like male stereotypes — dressed in drag and steadily falling apart. In the process, they put a humorous and loving face on the struggles associated with the subtle sexism of the trying-to-have-it-all culture.
13. "Listen To The Man" by George Ezra
Sir Ian McKellen excitedly dancing and lip-syncing? Say no more.