The 29 Most Iconic Moments for Women in Music in 2014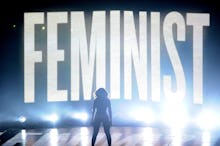 A feminist revolution has been brewing in our pop music for a long time. It was slow at first, but in 2014 the tide finally came in. This was a hugely historic year for women in music. It was the year that feminism finally broke into the mainstream.
That's huge. This was the first year it wasn't just about a few female artists acknowledging the issues, but rather about a seismic shift in how mainstream culture related to feminism in music. Country-turned-pop queen Taylor Swift said it best when she noted, "I think a lot of girls have had a feminist awakening because they understand what the word means. For so long, it's been made to seem like something where you'd picket against the opposite sex, whereas it's not about that at all." The "I'm not a feminist, but..." phrase that used to be a celebrity go-to is no longer acceptable — feminism is a badge of honor for all genders.
And though the music industry still helps perpetuate stereotypes about women, the bold women at its forefront are changing things rapidly.
Here are 29 iconic moments for women in music this year that got heads turning:
1. Taylor Swift tore down the haters in "Shake it Off."
Taylor Swift's first single off her new album, 1989, was the ultimate way to fight back against criticisms and rumors that, according to Swift, she has been hearing "nonstop for five years straight." In a world where it's easy for any critic to be heard — especially when it comes to women on the Internet — Swift proves that it can be a strong move just to ignore them.
She got a perfect opportunity to shake it off when the video released. Many people criticized her for appropriating different cultures through the costumes in the video, but even that was intentional. She told French Canadian television show Tout Le Monde, "I cheer on anybody who is living their life on their own terms, wearing what they want to wear and representing what they want to represent. No other female artist should tell me to wear less clothes and I'm not gonna tell any other female artist to wear more clothes."
This year, Taylor Swift proved the joys of just doing you.
2. Beyoncé made feminism a marquee issue on national television.
Image Credit: Getty
It's no secret that Beyoncé's newest album is filled with girl power-hailing anthems and feminist messaging. But for anyone who missed the point, she cleared up any confusion by closing her MTV Music Video Awards set with a large "FEMINIST" marquee.
This particular act was was one of the first times since the mid-'90s that a woman in music planted the term so boldly in front of the music community. As the Daily Beast's Amanda Marcotte put it, "Maybe this time feminists will see the backlash coming and will be prepared to put up a better fight against sexist forces trying to reclaim territory on the pop charts."
Beyoncé also raised the bar and set the standard of how feminism should be talked about in music — not subtly and hidden behind metaphors, but in black-and-white, plain English. Her VMAs performance was the battle cry that strove to unite women musicians across genres.
3. Miley Cyrus proved female pop stars aren't all about the attention.
By the time the 2014 VMAs rolled around, people were still hung up on Cyrus's suggestive performance at the VMAs from the year before. The twerk seen 'round the world pigeonholed the singer as degrading to women and hungry for attention.
But in 2014, she proved the opposite by sending a homeless youth to accept her Video of the Year award on her behalf. The singer wanted to make the point that what she does with her body should have less importance than what she does with her voice. She told Ryan Seacrest in an interview, "If I'm going to be given this loud of a voice and this big of an image and this big of a platform and this huge of an opportunity to talk to young people in America right now, what am I really trying to say?" 
4. Meghan Trainor stood up for curvy women on "All About That Bass."
Meghan Trainor was the breakout star of the year, with her first single, "All About That Bass," holding No. 1 on the Billboard Hot 100 charts for eight weeks. 
This wasn't just a wildly popular song with a good message, though. It was popular because of its message. Though some criticized the singer for "skinny-shaming," she told Billboard, "I know even you skinny girls struggle. That's exactly how I feel."
5. Sia reminded everyone that women don't owe them their privacy.
Image Credit: Music Times
Sia had one of the biggest hits this year, and yet she has managed to keep her face and the rest of her non-professional life hidden from the public — when she got married, barely anyone knew.
Sia has made a point to write her own songs (and hit singles for others) and stray away from celebrity, as she feels it is like "selling her soul." This is especially significant for women musicians, as often the media emphasizes their personal lives more than their work.
6. Pharrell came out as a feminist.
Image Credit: RapDose
Though Pharrell has been criticized for his involvement in the controversial song "Blurred Lines," the singer made a clear assertion on Good Morning America in April that he supports the feminist movement. 
"[Women] don't get paid as much as men do — that needs to change. We're a species that has a Martian rover on the surface of Mars, but yet we're still the same species that tries to tell women what they can and can't do with their bodies," he said.
Being one of the only male musicians who vocally takes a positive stand for feminism, Pharrell definitely deserves a gold star.
7. Nicki Minaj stuck up for women in hip-hop.
Image Credit: AP
At the BET Awards in July, rapper Nicki Minaj accepted her award for Best Female Hip-Hop Artist by taking a moment to empower other female musicians to write their own songs.
"I thank God that I've been placed in a position to do something and represent women in a culture that is so male-driven," she said, adding that she is the sole author of her lyrics. 
What some misconstrued as a pointed remark towards fellow rapper Iggy Azalea was instead a comment on how easy it is for men to take control by writing a woman's music for her. Minaj followed up her statement in tweets later:
8. Kacey Musgraves's "Follow Your Arrow" won Song of the Year at the CMAs.
Upon winning Song of the Year at this year's Country Music Awards, Kacey Musgraves said, "Do you guys realize what this means for country music?"
It's hard to appreciate the magnitude of what it means. It shows that the country music industry and its fans are finally enjoying and being open to songs about historically taboo subjects in the genre, such as marijuana and same-sex couples. And that a female voice was bringing them to light, even though women rarely gain the same commercial traction in country as men, means that much more.
Musgraves was even the first country artist to perform at the GLAAD Media Awards this year, therefore paving the way for a new relationship between the LGBT community and the music genre that, historically, hasn't represented it well. 
9. Charli XCX advocated for Girl Power 2.0.
Image Credit: AP
In many interviews, British pop up-and-comer Charli XCX has asserted herself as a feminist who believes that women "should be able to do what the fuck they want."
But one of the most standout moments for Charli XCX this year was her stand that feminists shouldn't create boundaries or judge people by "how feminist" they are thought to be. She told Cosmopolitan, "[T]he whole thing becomes pointless when people are telling people that only certain people can be feminists. 'You have to dress like this to be a feminist, you have to be a woman to be a feminist, you can't be a man and be feminist, you have to be like this.' I just feel that really holds back any kind of progress."
This specifically is relevant in the singer's life because she is often criticized for what she wears. In fact, many other women artists, such as Miley Cyrus and Nicki Minaj, find their outfits under constant scrutiny, but Charli XCX believes this is in no way a judgement of character.
"I still believe in equality, I still run my own shit," she said. "I'm not a dumb idiot just because of what I wear. "
10. Fifth Harmony paid tribute to the female "Bo$$ (Boss)."
When X Factor girl group Fifth Harmony won the MTV Artist to Watch Award at the VMAs this year, it was exciting enough that a girl band had finally clicked with the American population. 
But not only has this group of five women vowed to keep a united front (a wonderful message to send young women who are often pitted against each other), but they also released a song that idolizes women in positions of power outside the music industry, name-dropping Michelle Obama and Oprah alike.
11. Jessie J, Ariana Grande and Nicki Minaj delivered an anthem of female friendship.
In some ways, "Bang Bang" is the perfect answer to Robin Thicke's "Blurred Lines." As Bustle's Alex Kritselis points out, the song takes arguably the most offensive lyric from Thicke's song — "I know you want it" — and flips it into a song about girl power.
Although the three singers have different strengths and are at home in slightly different genres, they stand united in their self-love and conviction that it's the men that should be pining for them, and not the other way around.
12. Taylor Swift fired back at her sexist critics.
Image Credit: AP
During an October appearance on the Australian radio show Jules, Merrick & Sophie, Swift expressed her frustration with people who criticize her songs as being only about relationships. In doing so, she pointed out an assumption that constantly plagues female musicians.
"That's a very sexist angle to take," she said. "No one says that about Ed Sheeran. No one says that about Bruno Mars. They're all writing songs about their exes, their current girlfriends, their love life, and no one raises the red flag there."
13. Colbie Caillat destroyed stereotypes with "Try."
The music video for Colbie Caillat's "Try" depicts the singer crooning the song exactly like a normal pop star would: full face of makeup and perfectly coiffed hair. As the video goes on though, you realize that she and the other women in the video are actually taking off their makeup and letting down their hair (one woman even takes off her wig).
Songs like this that truly champion self-love are increasingly common, but Caillat makes the point that women should accept themselves for their own benefit — not for anyone else's.
While empowering songs like Trainor's "All About That Bass" say, "Don't worry about your size ... boys like a little more booty to hold at night," Caillat says, "When you're all alone, by yourself / Do you like you?"
14. Lorde held fast with her constant loyalty to Taylor Swift.
Image Credit: Getty
Lorde and Taylor Swift's friendship has always been cute, but it took an inspiring turn late this year. In addition to tearing down Diplo after his nasty Twitter comment about Taylor Swift's backside ("should we do something about your tiny penis while we're at it hm"), Lorde has done a lot to show that female artists need to support each other rather than let the media tear them apart.
The best example came from the VMAs. When Lorde introduced Swift before her performance, she said, "On the surface, this next performer and I are nothing alike. But we both base our art on the kinds of things that delight, terrify and confound us. And for that, I'm grateful she exists."
Seeing loyalty and admiration for each other in that way was a great model for everyone, giving us an example of two women who, though they work in the same industry, celebrate each other and are not competing (Nicki Minaj and Lil' Kim, you've got some work to do).
15. Maddie & Tae ripped country stereotypes apart in "Girl in a Country Song."
Like many genres in the music industry, it's no secret that country music is a bastion of sexism and unhospitable to strong, female representation. This is especially clear when the only country songs you hear on the radio are about girls in "painted-on blue jeans" riding in trucks and "shaking it" on command.
But this year, 18-year-olds Maddie Marlow and Tae Dye decided to take down these ridiculous tropes with "Girl in a Country Song," a pointed anthem that calls out male country singers and their sexist lyrics with every line. As Mic's Brittney McKenna puts it, "Whatever the motivations, 'Girl in a Country Song' is a strong first step on the long road of bringing female voices back to the country mainstream, catchy hooks and all."
16. Grimes broke barriers with a bold blog post.
Image Credit: AP
Up-and-coming pop sensation Grimes wrote a very personal and eloquent essay for Rookie magazine (released by Elle) about the challenges of being a female boss in the music industry. This wasn't just a sob story or invitation for pity, however. The singer made a point to outline tips and lessons for other women in similar positions (not necessarily in music), making the piece more of a call to action to empower other women to be successful and take charge of their lives.
She offers advice such as keeping a schedule and taking ownership of your work (while giving credit where credit is due), but her lesson at the end is arguably the most important takeaway for women:
"As time has gone by, I've noticed that the crappy people have been phasing out and I'm surrounded more and more by people I trust, and with whom I share mutual respect — which, by the way, breeds real confidence."
Many women often don't seek or accept the respect they deserve, and Grimes is making sure nobody else makes that mistake.
17. Iggy Azalea called out Eminem for rapping about raping her.
Image Credit: Getty
Though many are on the fence about Iggy Azalea (notably, her constant knack for cultural appropriation), this moment was clear as crystal: Azalea stood up for women when she refused to tolerate Eminem's overt sexual harassment.
In his recently leaked single, "Vegas," the 42-year-old rapper threatened to rape Azalea: "Put that shit away Iggy. You don't wanna blow that rape whistle on me / Scream! I love it. 'Fore I get lost with the gettin' off."
After hearing the song, Azalea took to Twitter to shed light on this horrific act — and this is the key — without attacking Eminem, but simply in order to spark discussion and awareness about the harassment and criticism that plague women every day:
18. Ingrid Michaelson took down gender roles with "Girls Chase Boys."
Ingrid Michaelson's gender-bending homage to Robert Palmer's 1988 music video for "Simply Irresistible" was the kind of role reversal that women and men needed this year.
Not only is the video sexy without degrading women, but it also makes a bigger point about not setting boundaries for women or men when it comes to love. Michaelson said on her Facebook page, "[I]ts focus shifted to include the idea that, no matter who or how we love, we are all the same. Girls don't exclusively chase boys. We all chase each other and in the end we are all chasing after the same thing: love."
Between this and her gender-experimenting video for "Blood Brothers," Michaelson has proven to be not only an advocate for women, but for men as well.
19. Ariana Grande became a voice for independent women.
Image Credit: AP
From the get-go, 21-year-old Ariana Grande has been singing odes to female independence. "Problem," her lead single off oher second album and featuring Iggy Azalea, debuted at No. 3 and peaked at No. 2 on the Billboard Hot 100.
It was her first declaration that she didn't need a man to stand on her own: "I should be wiser / And realize that I've got / One less problem without you." Then with her next hit, "Break Free," featuring electronic DJ Zedd, she declared her independence once again: "This is the part / when I say I don't want ya / I'm stronger than I've been before / This is the part when I break free."
20. Azealia Banks stood up for herself and demanded her worth.
Image Credit: AP
This past summer, rapper Azealia Banks finally broke ties with her record label, Universal Music, after complaining about the label for about six months. "IM ABOUT TO GET OUT OF MY DEAL!!!!!!!!!!!!!!!!!!!!! THATS THE BIG SURPRISE!!!!!" Banks posted to Twitter. "I'm feeling like miss celie at the end of color purple. … Free at last."
According to the Guardian, over the two and a half years she was at Universal, she only released an EP and a mixtape. Her fans started to get antsy when Banks' long-awaited studio album, Broke With Expensive Taste, didn't come to fruition. She wrote that the roadblock was that she didn't see eye-to-eye with her label executives. "I'm tired of having to consult a group of old white guys about my black girl craft. They don't even know what they're listening for or to."
This moment was significant because it would have been easy for Banks to let her record label take total control of her image and her music. But that wasn't an option for Banks. She told Rolling Stone about her no-nonsense attitude, "When you are a woman, it's just much easier to attract bees with honey than with fucking vinegar. And I was giving off a lot of vinegar." But instead of backing down and letting the male-dominated industry tell her what to do, she did what was best for her.
21. FKA Twigs revolutionized female sexuality in music.
Image Credit: AP
The British popstar just released her first album, LP1, in August, and she's already become a sex icon — and not because of any overt vulgarity in her songs or nudity in her music videos. It's because she is performing her sexuality in a revolutionary new way.
FKA Twigs challenged the definition of sexuality that we as a society had come to accept. In American pop and hip-hop, sexy often meant shaking a barely-covered behind or singing about a particular fetish. FKA Twigs instead conveys sex and lust through calculated and abstract music videos and songs. As Noisey writer Emma Garland puts it, "[FKA Twigs] understands the difference between sitting on a throne with your legs apart, touching yourself, and sitting on a throne with your knees together, singing about how much someone wants to touch you."
FKA Twigs is bringing an intelligence, strength and sense of experimentation to female sexuality that has rarely been seen in popular contexts before. She said it herself in an interview with the Guardian: "Weird things can be sexy." We can only hope to see more "weird things" from Twigs in the coming new year.
22. Taylor Swift and Lena Dunham joined forces.
Image Credit: Getty
We mentioned Swift's "feminist awakening," but left out the part that one of the people who awoke her was Girls creator and actress Lena Dunham.
"Becoming friends with Lena — without her preaching to me, but just seeing why she believes what she believes, why she says what she says, why she stands for what she stands for — has made me realize that I've been taking a feminist stance without actually saying so," Swift told the Guardian in August.
The moment stuck out this year because it was one of the first instances in recent years where a female musician had so honestly and openly drawn inspiration from an artist in a different industry. Collaboration and the exchange of ideas between different artistic women — as when Beyoncé sampled Chimamanda Ngozi Adichie — can lead to more thoughtful and socially conscious work, as well as creative and different ways to get their message across.
23. Azealia Banks came to Lana Del Rey's defense in her fight against Eminem.
Image Credit: AP
Another brilliant example of women in the industry not tolerating misogyny and standing up for each other. On a verse Eminem released in November, he rapped, "Bitch, I'll punch Lana Del Rey right in the face twice / like Ray Rice in broad daylight in the plain sight of the elevator surveillance / 'Til her head is banging on the railing, then celebrate with the Ravens."
Azealia Banks came to Del Rey's defense and tweeted: "but does eminem know that I will personally punch him in his mouth?!" It was nice to see that though offensive statements and actions continue to permeate the pop industry, at least one strong voice won't let them go unnoticed.
24. Rihanna fought censorship of female bodies.
Image Credit: AP
When pop star Rihanna posted a photo of her topless cover of French magazine Lui on Instagram, her followers probably weren't very shocked. The serial Instagrammer is known to her 8 million followers for her racy and provocative photos, so a little bit of nipple probably felt like a tame move. But Instagram administrators felt she had violated their nudity policies with the photo, and suspended her account until she deleted it.
This event was especially significant since recently many women — including those involved with the "Free the Nipple" campaign — have been fighting for the right to go topless in public like men. Instagram's censorship of Rihanna exposed double standards for how we censor female bodies. Why is this photo allowed to be public, but as soon as the nipple is exposed it's considered "too nude"?
Though Rihanna herself didn't contribute much to the debate except for this meme and this pseudo-revenge dress, some, like Elon University professor Prudence Layne, still say that this moment made the controversy more mainstream and opened up opportunities for future discourse.
25. 'Anaconda' launched a conversation about sex positivity and race in music.
Nicki Minaj's album cover for Anaconda took a lot of criticism for being too explicit. The Guardian's headline upon the artwork's release read, "Nicki Minaj's Anaconda cover artwork: too racy for its own good?" and some other websites worried that the cover was too risqué for Instagram.
Minaj took to Instagram to answer her critics in a way that was surprising: She posted pictures of other women who had taken similar photographs. The difference? They were white. Minaj noted in the caption for this photo of Kate Upton's behind that the public deemed it "acceptable" and she said this one was thought of as "angelic."
Another difference that the Huffington Post's Lauren Duca pointed out was that these photos were taken for men's magazines, and therefore crafted and curated by men for the benefit of the male gaze. In Minaj's case, at least, she had creative control over her image.
"What Minaj is doing, then, is defending her right to bear her behind from a sex-positive perspective," said Duca. "She has ownership of her body. Her artistic persona is driven by a hyper-sexuality, and she has a right to capitalize on that."
26. Lorde's "Royals" won Song of the Year at the Grammys.
The 18-year-old New Zealand pop starlet has a lot to be proud of this year. For one thing, she won one arguably the highest accolade at the Grammys. Her smash hit, "Royals," spent nine weeks at No. 1 on the Billboard Hot 100 chart, and has since catapulted her into fame and respect as a pop musician.
What is most remarkable about this milestone, though, is that Lorde wrote the song herself. When she was 16.
Her words brought her to the top — she wasn't forced to sing any label-commissioned songs. This independence is rare in the music industry that either puts words in women's mouths or ignores them. Now that Lorde knows she can write her own songs and still rise to the top, she has the power to channel her sex-positivity and feminist convictions into her music and affect massive numbers of people.
27. Mary Lambert urges women to come clean in "Secrets."
Mary Lambert first captured a nationwide audience with her beautifully melodic verse on Macklemore and Ryan Lewis' hit "Same Love." In anticipation of her first studio album, Heart on my Sleeve, Lambert released her single "Secrets" and its accompanying music video in the summer.
In an age of constant scrutiny where, with social media, women spend an eternity meticulously crafting their image, it's easy to assume that every small "flaw" we see in ourselves is the end of the world. Lambert believes that being honest and forthcoming is the key to self-acceptance. "I know I am not the only one / who spent so long attempting to be someone else."
Lambert's voice is one worth paying attention to: As an overweight lesbian, Christian and feminist with bipolar disorder, she has a unique perspective and a lot to say.
"I felt like there were a lot of songs coming out about self-empowerment and challenging beauty standards and I wanted to write a song along those same lines, but in my voice," Lambert said in a statement.
She also wrote an extension of "Same Love" in 2013 called "She Keeps Me Warm," about a relationship between two women, one of whom she played in the music video. Lambert noted that she hadn't seen a "relationship like hers" played so accurately in a music video.
28. Hayley Williams will be honored as a trailblazer.
Image Credit: AP
Paramore's Hayley Williams will be honored in December with the first-ever Billboard Trailblazer Award at this year's Billboard Women in Music Awards. The award "honors a standout female artist who breaks from convention to make a unique mark in music and pave the way for other talent," according to Billboard, and she certainly fits the bill.
Williams is a strong, female voice in the male-dominated rock genre and has a good track record of standing up for herself and other women. She told Rolling Stone all about her many encounters with harassment as a female musician, and how it's up to women to show a united front and stop sexism in its tracks.
"It's time to start saying something," said Williams. "There's enough women that are rad and have great points of view who can start encouraging that in one another and the people who are coming to shows; instill something else in them that is not being told to them through society and magazine covers — tell them that having a voice and going going against the grain is good."
29. Female musicians made Billboard history in a huge way.
Image Credit: Getty
In September, female musicians reached their most historic milestone of the year, when eight of the top 10 songs in the country were sung by women.
Taylor Swift, Meghan Trainor, Nicki Minaj, Jessie J, Iggy Azalea, Ariana Grande, Sia and Charli XCX all ruled the historically male-dominated Billboard Top 100. A mere month before, women only represented three of the top 10, and in 1984, only four women made the top 10 all year.
But the numbers are not even the best part about this chart victory. Almost all of the hits, from Jessie J., Ariana Grande and Nicki Minajs "Bang Bang" to Meghan Trainor's "All About That Bass," were all woman-anthems about taking control of your image. This was the moment when finally, the country as a whole was celebrating women who were comfortable in their own skin. In an industry where women usually are praised for singing love songs about other people, it's a feat that these singers were able to find success by singing odes to themselves.
It's a sign that the times are changing.